Could Anna Faris And Andy Samberg Switch Bodies?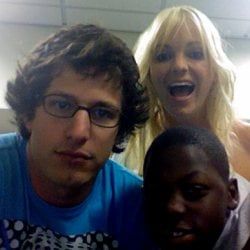 Anna Faris and Andy Samberg both lent their voices to the hilarious, criminally underappreciated animated comedy Cloudy With A Chance Of Meatballs, and when two people are that funny both separately and together, you really can do nothing but wait until they team up again. He'll have a small role in her upcoming romantic comedy vehicle What's Your Number?, but according to Production Weekly, the two may be up for a comedy that's even more promising.
Apparently Faris and Samberg are "mentioned" for Opposites Attract, a body-switching comedy to be directed by Michael Shapiro, who has far too common a name to be correctly identified on IMDB. There's also no explanation of what "mentioned" might mean, but given how vague that is we should probably count on the story changing, or for the movie never to happen at all. You guys know how these things go by now, right? If you want to see this happen, though-- and come on, you know you do-- just keep faith alive that these two find something to work on together sometime soon.
Staff Writer at CinemaBlend
Your Daily Blend of Entertainment News
Thank you for signing up to CinemaBlend. You will receive a verification email shortly.
There was a problem. Please refresh the page and try again.