Could We Ever Get Willow 2? Ron Howard Just Said This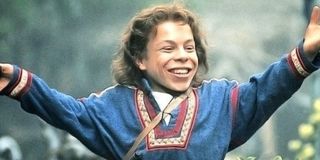 We live in a world where Hollywood will reboot or make a sequel to anything they can get their hands on. Studios are not only adapting every comic book character or commodity available, but they're also delving back into franchises that they own from yesteryear that they hope will both appeal to new and older audiences alike. So it's hardly a surprise that Ron Howard is being asked about the chances of a Willow sequel. While he admitted that he'd love to work on such a film, he thinks Lucasfilm is a little too busy at the moment.
Ron Howard made this admission while partaking in a Reddit question and answer session to promote his upcoming nautical adventure, In The Heart Of The Sea. After being asked about the chances of a follow-up to the much loved fantasy epic, which starred Warwick Davis as the eponymous lead character, Ron Howard was rather candid about its prospects.
Willow was originally conceived by George Lucas all the way back in 1972, but it took until 1985, when Ron Howard was working on the post-production for Cocoon, for Lucas to offer Howard the chance to direct the fantasy epic. Warwick Davis, who at the time of Willow's release was only 18-years-old, was given the lead role after starring in Star Wars: Return Of The Jedi, Ewoks: The Battle For Endor, and Labyrinth.
Warwick Davis' Willow starts off the film as a farmer who becomes a reluctant hero for his attempts to stop a tyrannical queen from killing a mystical and special baby that she has vowed to destroy in order to take over their world.
Unfortunately, Willow didn't manage to chime with an audience upon its release, only grossing $57.3 million from its $35 million budget, and receiving only mixed reviews. However, in the ensuing years, it went on to achieve a cult status among fans. Thanks in large part to the sweet and whimsical nature of the storytelling.
This isn't the first time that a Willow sequel has been discussed. Back in 2005 both George Lucas and Warwick Davis suggested that a television series was being considered, while since then both Davis and Val Kilmer have insisted that they were open to a follow-up. But, since Lucasfilm is currently putting all their eggs in the highly lucrative Star Wars basket, it's safe to say that the Willow sequel isn't foremost in their minds at the moment.
Your Daily Blend of Entertainment News