The Best Comic Book Movie Of All Time, According To Patton Oswalt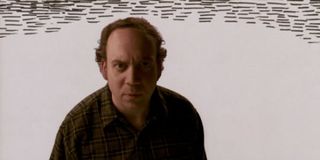 Patton Oswalt is a hardcore nerd, which is a big part of why we love him. Remember that epic improvised Star Wars filibuster? You probably know that he's a big fan of comic book movies, and if you've been fretting over which big screen adaptation the comedian thinks is the best, today is your lucky day. While Patton Oswalt's personal favorite superhero movie is Sam Raimi's 2004 Spider-Man 2, he thinks that the best comic book movie of all time is American Splendor.
Talking to Screen Junkies, Oswalt answered tons of awesomely geeky fan questions. When someone asked about the best comic book movie of this century, while Spider-Man 2 may be at the top of the superhero heap, he says American Splendor, the 2003 adaptation of underground comic artist Harvey Pekar's life and work, is the best comic book movie of this century in a larger, more inclusive sense. It's hard to argue with that, American Splendor is inventive and moving and incredible.
Based on Pekar's autobiographical comics of the same name, published from 1976 through 2008, in American Splendor documentarians Shari Springer Berman and Robert Pucini weave together pages of comics, live action, and even appearances by Pekar and his wife, Joyce Brabner (played by Paul Giamatti and Hope Davis, respectively, in the rest of the film). The film chronicles his life and struggles through the candid, brutally honest stories Pekar told on the page, in his work that is often compared to contemporary R. Crumb.
American Splendor was met with widespread critical acclaim after premiering at the 2003 Sundance Film Festival, where it took home the Grand Jury Prize. It also returned home from Cannes with some additional hardware, as well as an Academy Award nomination for Best Adapted Screenplay, all of which it deserved.
It makes sense that a Marvel title would top Oswalt's personal superhero list. Though Spidey is not a proper part of the expansive Marvel Cinematic Universe just yet, he's coming home before too long. Most expect him to show up in Captain America: Civil War next year, and he'll get a solo movie, a joint Marvel/Sony production, in 2017. Oswalt is, after all, part of ABC's Agents of S.H.I.E.L.D. cast, where he plays the identical Koenig brothers, and he's often said Spider-Man is his favorite character. About Spider-Man 2, he said, "There are some really great, deep, smart things going on in that movie."
This sequel is widely considered to be the peak of Raimi's trilogy of web-slinger movies, and Alfred Molina's Doctor Octopus stands as perhaps the best villain in the franchise. Roger Ebert called it the best superhero movie since Superman. And there's no awkward dance number like in Spider-Man 3, which is always a bonus.
Your Daily Blend of Entertainment News
Your Daily Blend of Entertainment News
Thank you for signing up to CinemaBlend. You will receive a verification email shortly.
There was a problem. Please refresh the page and try again.