The Crazy Thing Mark Hamill Had To Do To Protect Star Wars 7 Secrets On Set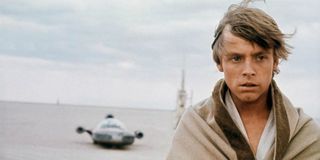 If you think about how gluttonous we all are around Star Wars: Episode 7 clues, teases and spoilers, just imagine how desperate those pesky paparazzi are to get their hands on the next look. According to Luke Skywalker himself, Mark Hamill, he and the rest of the cast and crew have had to take extra precautions on the set to avoid some pretty crazy methods.
In an interview with Coming Soon, Hamill revealed one of these methods of trying to obtain clues:
As crazy as it sounds, we've already seen photos taken by these aerial attackers and haven't batted an eye. Remember those overhead shots of the Millennium Falcon and an X-Wing or two hanging out in an outdoor hanger? Don't worry, we're all part of the problem.
Star Wars: Episode 7 director J.J. Abrams is already super secretive with his projects. Examples: he denied for months that Benedict Cumberbatch was playing famed Star Trek villain Khan in Into Darkness, and he always releases random and mysterious video teasers online to promote his mystery projects. With something as precious as Star Wars material, though, he's exceptionally careful, which means anyone looking to take a peek at the set has to get, well, creative.
Hamill, though, is no stranger to those of us wanting so desperately for any shred of information. As he said, he had a lot of experience with it back in the days of the original trilogy, specifically The Empire Strikes Back. He remembered one time in Finse, Norway that someone had bribed a helicopter pilot to "buzz-bomb" the set and take pictures, which isn't all that different from the drone situation. Fortunately for the production crew at the time, all they got were pictures of snowmobiles, which The Sun mistook for "strange, alien machinery on the set of Star Wars 2!"
Thankfully for Abrams, the cast is determined to keep the current film's secrets under wraps. Dohmnall Gleeson said recently that "the genuine love" emitting from everything and everywhere on set made him want to do so.
Spoilers are always a tricky subject to broach. While there have been many think pieces written on the matter, there are people like Avengers 2 director Joss Whedon who find merits on both sides of the debate. (And he's one who has to constantly worry about what's getting leaked.) Though, Facebook pages are littered with the bones of those who've been torn apart by vicious commenters for spoiling the ending of Breaking Bad. And there will be plenty more when Star Wars: Episode 7 hits theaters on December 18.
Your Daily Blend of Entertainment News
Thank you for signing up to CinemaBlend. You will receive a verification email shortly.
There was a problem. Please refresh the page and try again.