DJ Who Helped Launch N.W.A Getting His Own Biopic Now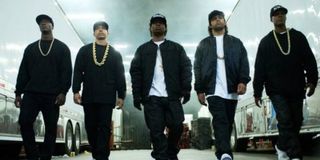 With Straight Outta Compton currently dominating the box office, director F. Gary Gray not only reaffirmed the enduring viability of the biopic, but also showed that hip-hop and rap as Hollywood subject matter can have widespread appeal. Now it seems one of the men who brought hip-hop to the mainstream in the first place will get a biopic of his very own.
Deadline reports that a movie will be produced chronicling the life of Los Angeles disc jockey Greg "Mack Attack" Mack during the birth of modern hip-hop. When others wrote the music genre off as a passing fad, Mack championed up-and-coming rappers, establishing himself as a music pioneer when his station – 1580 KDAY – became the first ever 24-hour rap station in the United States. Starting off as an AM channel, Mack's humble AM station has developed an enduring legacy – transitioning to FM in 2004 and still plating classic hip-hop to this very day.
The film will be based on Mack's as of yet unreleased autobiography, and he will have a direct involvement in the project as an executive producer. Mack appeared as a minor character in Straight Outta Compton – portrayed by the film's director F. Gary Gray.
A film exploring the life of Mack makes sense; during the rise of N.W.A – the group upon which Straight Outta Compton is based -- he acted as one of their biggest champions. His story is one of a man who fought behind the scenes to ensure that artists could have their voices heard by the masses in a serious, thoughtful way.
Greg Mack also proved instrumental in the discovery and rise of numerous other rappers including, but not limited to, MC Hammer, LL Cool J and Queen Latifah. His story parallels that of N.W.A in the way the black community fought to carve out an identity for themselves in an era where their art was not taken seriously by the mainstream media. At this early stage it remains unclear if the film will span his career, or focus in on one specific era of his life.
Straight Outta Compton's mainstream success – coming in at $60 million in its opening weekend – not only proves the existence of an audience for this type of film, but also creates a valuable marketing opportunity. Nobody expected Compton to do as well as it did, so Mack can now be framed as the man who brought N.W.A to the world. The struggle of black culture in America remains relevant as well, so much like Straight Outta Compton, his film will have the opportunity to tackle some tough questions and subject matter.
Greg Mack's autobiography will hit bookshelves by the end of 2015, with the film upon which it takes inspiration already in development.
Originally from Connecticut, Conner grew up in San Diego and graduated from Chapman University in 2014. He now lives in Los Angeles working in and around the entertainment industry and can mostly be found binging horror movies and chugging coffee.
Your Daily Blend of Entertainment News
Thank you for signing up to CinemaBlend. You will receive a verification email shortly.
There was a problem. Please refresh the page and try again.