The DUFF Trailer: Watch Mae Whitman Get Branded The Ugly Fat Friend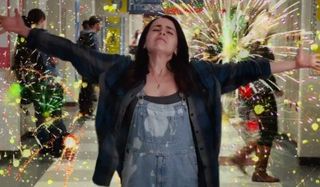 Poor Mae Whitman. Not only did the Bluth family in Arrested Development roundly dismiss her as an odious toad, but she has now taken the titular role as the ugly fat friend in The DUFF. The first trailer for the comedy has now been released and it actually shows signs of potential.
Okay, so maybe The DUFF looks like it will be riddled with about every clichéd high-school cinematic trait going, but hopefully that shouldn't stop it from being fun. And the trailer does produce a few giggles. There are nice jokes about Mae Whtiman's Bianca wearing pajamas to school and dressing like Wreck It Ralph, plus it also exhibited a modern aura that was similar to 21 Jump Street's take on high schools. The plot does look incredibly predictable, though, and the bubble-gum pop music pretty much confirms how it will proceed. Here's my prediction: The good-looking leading man will help to turn the allegedly unattractive girl into a bona-fide hotty before falling in love with her.
In addition to the trailer, CBS Films has also dropped an official plot synopsis for the film, which has been adapted from Kody Keplinger's novel. You can read it in full below
There are other reasons to still have faith in The DUFF. To start, the presence of both Alison Janney and Ken Jeong mean that the film shouldn't be a total dud. The pair have been consistently producing laughs and meaningful performances for years now. I know that they have been known to cash in their talent for an unrewarding film along the way too, but they've still managed to excel even in mediocre fare. Plus Mae Whitman has the potential to turn herself into a quirky leading lady too, and this could be the film that does that for her. The 26-year-old is deceivingly pretty, funny, charismatic and eminently relatable too, meaning that there is plenty of potential for her to blossom into a Hollywood starlet.
In the past, Mae Whitman has turned in scene-stealing turns in the likes of Arrested Development, Parenthood, Scott Pilgrim vs. the World, and Perks Of Being A Wallflower. The trailer for The DUFF suggests that she should have no problem excelling as the leading lady in her own effort too. Could this do the same for her as Easy A did for Emma Stone and The To Do List did for Aubrey Plaza when it hits cinemas on February 20, 2015? Only time will tell. But early suggestions are promising.
Your Daily Blend of Entertainment News
Thank you for signing up to CinemaBlend. You will receive a verification email shortly.
There was a problem. Please refresh the page and try again.