Dan Aykroyd Says Bill Murray Can't Stop Ghostbusters 3 From Happening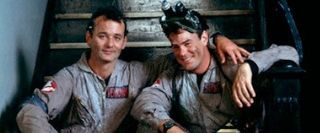 Dan Aykroyd has been tireless in his efforts to resurrect the Ghostbusters franchise with a new movie for a new generation. But the path to production has been littered with obstacles. The would-be film has had a team of scribes revising and redrafting the script into so many incarnations that we've lost count. Rumored start dates have repeatedly come and gone, yet the biggest obstacle has been Bill Murray, or rather his desire to have nothing to do with the film. Yes, the recent rumor going around that Murray had signed on was a hoax-- he's nowhere closer to joining the film than he ever was.
This past summer, Aykroyd finally admitted Murray was out of Ghostbusters 3, which to many movie fans—myself included—seems like reason enough to let this project die. However, when Aykroyd is not promoting his Crystal Head vodka, he's cheerleading for Ghostbusters 3. Speaking with Esquire, Aykroyd insisted that not only was the project still brewing, but also there's nothing Murray can do to stop it. Discussing who will get credit for the screenplay—after so many have meddled with it—Aykroyd mentioned who has rights to the property, listing himself, Ivan Reitman, Harold Ramis and Murray, but then backpedalling:
He went on to blame Murray directly for the movie's delays, saying that if his former co-star had said yes to the Eisenberg/Stupnitsky script from 2010, "it would be out this summer, and it would be a massive hit." It's tricky to play these kind of hypothetical games, but it seems worth noting here that nostalgia-geared movies like Dark Shadows and Rock of Ages both flopped this summer, as did the sci-fi comedy The Watch, which focused on four schlubs that are self-proclaimed guardians of humanity, trying to save the world from an alien invasion. Basically, the Ben Stiller comedy is pretty close in concept to the Ghostbusters movies, but failed to draw in audiences even with a cast of contemporary comedy stars.
Anyway, despite being burned by Murray's rejection, Aykroyd claims that should Murray change his mind, Venkman could easily be written back into the film, though probably as a ghost. He goes on to state that Sony—should they move on production as planned—will make "a pretty hefty, nine-figure return" on the picture. But even if they don't move ahead, Aykroyd says he has a lot going for him before seguing into a plug for Crystal Head Vodka. Then he teased the concept of the ghostbusters being trapped in "Man-hell-ttan" and suggested he's got enough ideas for a Ghostbusters 4 and 5. Still, despite his repeated attempts to get this franchise going again, Akroyd insists, "If it does not happen, the life of Dan Aykroyd and his family and friends will be quite full without Ghostbusters 3."
Dan, trust me, that goes for most of us.
Staff writer at CinemaBlend.
Your Daily Blend of Entertainment News
Thank you for signing up to CinemaBlend. You will receive a verification email shortly.
There was a problem. Please refresh the page and try again.