The 7 Best Random Bill Murray Movie And TV Cameos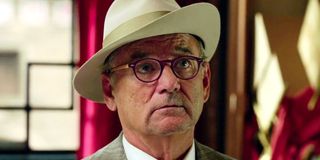 Bill Murray has an interesting habit of just showing up in places unannounced. I am not just referring to the movies and TV shows he has been known to make cameos in, I am actually talking about him as a real life urban legend.
There have multiple reported sightings in recent years (opens in new tab) of the Ghostbusters star and former Not-Ready-For-Primetime Player just showing up in random places like neighborhood basketball games, for instance, and for no discernible reason. Yet, he does not necessarily need a reason. That is one of the charmingly unique aspects of Bill Murray that makes him the one and only Bill Murray.
As much as we would we love to do a retrospective on the many random public appearances of Bill Murray, we figure that, for this list, we will just stick with a good handful of his many out-of-nowhere appearances on the big and small screen alike. Why? Well, otherwise, no one will ever believe us.
Space Jam (1996)
This might be the beginning of Bill Murray's prolific career in cameos, not to mention many a '90s kid's first exposure to the actor (especially if their parents were late to show them Ghostbusters). Murray's role as himself in Space Jam, the beloved feature-length adaptation of a Nike ad starring basketball legend Michael Jordan and Bugs Bunny, is a curious case because, while he is relatively integral to the plot (teeing off with Larry Bird and Jordan right before his abduction to Looney Tune Land, offering help to the Tune Squad at a crucial moment of the game), it does not make his appearance feel any less out of place, and hilariously so. The very acknowledgement of this leads to one of the film's best bits, in which Daffy Duck questions how Murray got to the game and he literally replies, "The producer's a friend of mine."
Coffee And Cigarettes (2003)
In all honesty, this one is teeters on cheating because this collection of vignettes from Jim Jarmusch already features a seemingly random assortment of celebrities as themselves and, at this point, rarely does a film by the quirky The Dead Don't Die director feel complete without Bill Murray, but the very segment from Coffee and Cigarettes in which he appears very much surpasses expectations. The scene, titled "Delirium," sees GZA and RZA of the Wu-Tang Clan meeting up at a coffee shop, where they recognize their server to be "Bill Groundhog Day, Ghostbustin' ass Murray," who tells them he is trying to keep his identity a secret for an unspecified reason. Perhaps, hidden within this black and white, guerrilla style conversation between two rappers and a comedian lies the secret to the actor's urban legend origin.
Get Smart (2008)
Of all the places in which Bill Murray has made a bewildering appearance, none have been quite as ridiculous as a tree. Such is where Steve Carell, as Maxwell Smart, finds him as the unlucky Agent 13, who claims that "communication is down," so CONTROL has stationed him to the hollowed out trunk of a nearby tree in a brief moment from the cinematic update of the 1960s espionage parody series Get Smart. The scene is actually heartbreaking in retrospect, from the subtle longing in Agent 13's voice when he asks Max how he has been to his tearful submission at the realization that "No one wants to talk to a guy in a tree."
Zombieland (2009)
When you think of Bill Murray cameos, what is the first movie you think of? In arguably the most epic of Murray cameos, the four heroes of Zombieland decide to take refuge at a mansion belonging to the actor and, much to their surprise, the Bill Murray has survived the apocalypse by donning zombie makeup "to blend in." It is all fun, games, and pop culture references until Columbus (Jesse Eisenberg) mistakes him for a real walking corpse and shoots him dead. Among his final words, Bill Murray cites his one regret as "Probably Garfield," an infamous quote called back to in the 2019 sequel.
Dumb And Dumber To (2014)
Bill Murray has a history with Peter and Bobby Farrelly that dates all the way back to 1996's Kingpin, so it might not have been too much for them to ask him to make an appearance in their long-awaited sequel to 1994's Dumb and Dumber… well, just barely, if we are being honest. When Harry (Jeff Daniels) brings Lloyd (Jim Carrey) back to their old apartment after 20 years of faking mental illness in an institution, he is surprised to find Harry took in another roommate to make ends meet: a crystal meth manufacturer named Ice Pick hidden underneath an oxygen mask and hazmat suit. If you listen closely to Ice Pick's sole line of dialogue, spoken through the mask, you should be able to recognize Murray's voice effortlessly.
Parks And Recreation (2015)
In the seventh and final season of Parks and Recreation, we finally got to meet the mayor of Pawnee, Indiana, Walter Gunderson, but only after his death and played by an uncredited Bill Murray. At the mayor's memorial service, a video is played of him giving a final word to his fellow townspeople in which he admits that he never really paid much attention to what happened in the city (not that the citizens ever acknowledged him very often either) which he claims gives him the advantage to take credit for any achievements and blame everyone else for failure. In true Murray cameo fashion, and to quote Adam Scott's Ben Wyatt, "That was really something."
Vice Principals (2016)
In another instance of Bill Murray in a brief role as a symbol of authority on a TV comedy, his first and only appearance on the HBO series Vice Principals was on its pilot episode. What makes this cameo an especially odd one for Murray is that, this time he does not play the troublemaker, but, instead he plays Welles, the respected principal of North Jackson High School, whose resignation amid his wife's terminal illness sparks an immature competition between vice principals Neal Gamby (Danny McBride) and Lee Russell (Walton Goggins) to become the new head honcho. Watching him try to wrangle his bickering subordinates like a substitute on recess duty is a hilariously welcome change of pace for the comic.
Are there any funny Bill Murray appearances that I let slip through the cracks? If so, please leave a comment to let us know and also be sure to check back for more news and information on your favorite living urban legend here on CinemaBlend.
Your Daily Blend of Entertainment News
Jason has been writing since he was able to pick up a washable marker, with which he wrote his debut illustrated children's story, later transitioning to a short-lived comic book series and (very) amateur filmmaking before finally settling on pursuing a career in writing about movies in lieu of making them. Look for his name in just about any article related to Batman.
Your Daily Blend of Entertainment News
Thank you for signing up to CinemaBlend. You will receive a verification email shortly.
There was a problem. Please refresh the page and try again.