Daniel Craig, Bill Murray And More Make Up Star-Studded Cast Of George Clooney's Next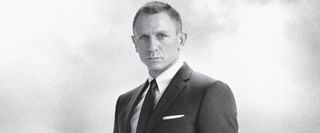 When George Clooney calls and asks you to take part in his next movie, you apparently say yes no matter who you are. The actor-turned-director, who earned a Best Director Oscar nomination for Good Night, And Good Luck, has been assembling a list of names for his next project, Monuments Men and it's a pretty star-studded affair. We already knew he was eyeing The Artist star Jean Dujardin to take part, but now a whole lot of other names have been added to the list.
Bill Murray and Bob Balaban-- who were both featured in Wes Anderson's Moonrise Kingdom-- have signed on, as have Cate Blanchett, John Goodman, Hugh Bonneville, and James Bond himself, Daniel Craig. According to Deadline the film is set to begin production in Europe on March 1, with much of the same crew that worked on Ben Affleck's Argo, a movie Clooney co-produced with Grant Heslov, who also co-wrote the script with Clooney. The story follows a group of art directors and museum curators who aimed to rescue priceless works of art from Nazi Germany near the end of World War II.
So basically it's Indiana Jones meets art history, with a whole lot of classy actors on board to make it happen. Pretty much everything is appealing about that, and with Sony and 20th Century Fox making it a co-production, Clooney and Heslov now have the budget and studio support to put it together. Argo seemed to mark a potential rebirth for entertaining but serious-minded studio films for adults, and Monuments Men sounds like a solid next step in that direction.
Staff Writer at CinemaBlend
Your Daily Blend of Entertainment News
Thank you for signing up to CinemaBlend. You will receive a verification email shortly.
There was a problem. Please refresh the page and try again.