Daniel Radcliffe And Paul Dano Making A Morbid Comedy About A Dead Body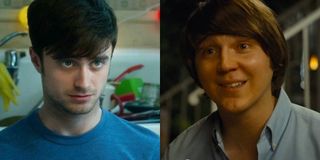 There's something genuinely uplifting about learning that two established, young actors with bounds of potential still yet to flourish are going to work on a project together. Especially when that project is itself teeming with possibilities too. So the revelation that Paul Dano and Daniel Radcliffe are making a comedy about a man who becomes BFFs with a dead body should fill you with great joy.
Variety has reported that Paul Dano and Daniel Radcliffe have signed on the dotted line to star in Swiss Army Man. The impressive cast has also been rounded off with the addition of Mary Elizabeth Winstead.
Thanks to his turns in There Will Be Blood, Love & Mercy, and 12 Years A Slave, Paul Dano has turned into one of the most intense and compelling young actors in American cinema. Meanwhile, after his turns in the Harry Potter franchise, Daniel Radcliffe has done an exemplary job moving away from the iconic character thanks to his portrayals in The Woman In Black, Kill Your Darlings, and What If.
What has convinced this trio to star in the offbeat drama-comedy? Well, its unusual premise may have been the biggest allure. Swiss Army Man revolves around a man who is stranded alone in the wilderness. Struggling to survive, he comes across a dead body that he befriends. We're still not completely sure how he actually befriends the corpse, but it's been reported that the pair go on a surreal journey in order to get home.
Intrigued? I certainly am. Swiss Army Man has been developed over at the Sundance Lab, which has championed and supported a variety of leading independent filmmakers over the last 30 years. Daniel Kwan and Daniel Scheinert are directing Swiss Army Man, which comes fresh off their success at the MTV Music Awards, where they won Best Direction for their work on "Turn Down For What" by Lil Jon and DJ Snake. (Check that out here.)
By winning this award, the Daniels have followed in the footsteps of Spike Jonze, David Fincher, Marc Webb, and Francis Lawrence, each of whom have forged impressive filmmaking careers by creating the likes of Being John Malkovich, Se7en, The Amazing Spider-Man, and Hunger Games. Daniel Kwan and Daniel Scheinert have also worked on a number of short films as well as numerous other music videos for the likes of Passion Pit, Tenacious D, and The Shins. You can head over to the pair's official website to see more of their work.
Production on Swiss Army Man is set to begin in the next few weeks, and we can expect to see our first glimpse of the interesting flick around the turn of 2016.
Your Daily Blend of Entertainment News