Daniel Radcliffe Is Making A New Movie About Grand Theft Auto's Creator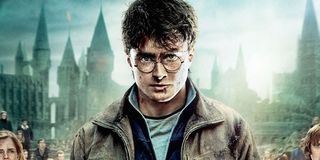 Former Harry Potter star Daniel Radcliffe is circling an upcoming biopic that centers on the creator of the notoriously violent, moral-majority-maligned video game series Grand Theft Auto. While this concept may seem surreal and evoke mental images of a teenage wizard running over a muggle hooker with a convertible after patronizing her services, it's not quite that.
According to The Hollywood Reporter, Radcliffe is in negotiations to star in a film deceptively titled Grand Theft Auto, about British video game guru, Sam Houser. Having co-founded the New York-based Rockstar Games, Houser became an integral creative force behind the sandbox-centric Grand Theft Auto series, along with loads of other huge hits that carry a similarly irreverent, uber-violent, unapologetically un-PC pathos, like the western-based carnage of the Red Dead series, the movie-inspiring Max Payne games, and Manhunt. Yet, despite the violently voyeuristic nature of the games in question, this film could end up being a legal drama of sorts.
Founded in 1998, the success of Rockstar Games' signature title, Grand Theft Auto, launched the company into the stratosphere in the early 2000's. The games, which essentially put the player in the role of criminals, had a revolutionary open-ended nature that allowed you to commit the most egregiously immoral acts with seeming impunity. That perceived decadence made Houser's company the target of self-appointed moral policemen, like Florida attorney and scourge of gamers everywhere, Jack Thompson. This much-publicized conflict over the claimed effects of video game violence seems to be what serves as the crux of the film's drama.
Taking the director's chair is a burgeoning talent named Owen Harris. The project will only be the second feature-length film for the Brit, known from his television work on Black Mirror and Secret Diary of a Call Girl. His directorial film debut, the upcoming comedy Kill Your Friends, stars, among others, late night TV's newest comedic force, James Corden. Based on that comedic-leaning drama, and the off-the-wall nature of the Rockstar video games central to the plot, we might conclude that this GTA biopic could be a lighthearted affair with plenty of welcome shout-outs to the deep-pocketed video game culture. Seeing as the Grand Theft Auto series has sold over $150 million worth of games over the years, there could even be a built-in audience for this film unlike any other in the comedic/dramatic genre.
This should be an intriguing role for Daniel Radcliffe as he continues his efforts to diversify his post-Potter portfolio by taking a wide array of roles, content to avoid Hollywood. Yet, it will certainly be more reality-grounded than Radcliffe's upcoming role in this fall's Victor Frankenstein. He plays the titular mad scientist's assistant, Igor, who will actually be the central figure of the story. That film comes alive on October 2, however, his Grand Theft Auto project has yet to lock-down production plans or a release date.
Your Daily Blend of Entertainment News
Your Daily Blend of Entertainment News
Thank you for signing up to CinemaBlend. You will receive a verification email shortly.
There was a problem. Please refresh the page and try again.