Dark Streets Trailer And Poster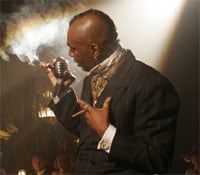 2008 has been a little short on decent musicals (and no HSM 3 is nto a decent musical), but this fall that may be rectified by the release of a little under the radar flick called Dark Streets. It's a blues musical. Not just a blues musical, but the trailer makes it look like a mixture of blues, burlesque, and noir murder mystery. Dark Streets oozes cool and it could very well be the first musical in history that guys don't have to feel ashamed to show up to without a date.
Below we've got the movie's first trailer and poster for your eyes to feast on. Take a look and watch for Dark Streets in theaters some time this December:
Your Daily Blend of Entertainment News
Thank you for signing up to CinemaBlend. You will receive a verification email shortly.
There was a problem. Please refresh the page and try again.