The Dark Tower Finds Its Female Lead, But Who Is This Character?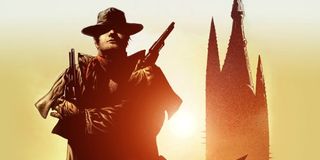 It feels like it has taken forever, but an adaptation of Stephen King's fan-favorite The Dark Tower is finally gaining momentum. After a number of false starts and stops, things are rolling forward--they have a director, and even have two big names in key roles. A new report indicates that model-turned-actress Abbey Lee will join the cast, though there are some questions about her character.
Deadline reports that the 28-year-old Australian is in negotiations to take the female lead, a character named Tirana. That's all well and good, but as the character looks to have a huge role, fans of Stephen King's The Dark Tower saga have some questions. Tirana is indeed a character that plays a part in the narrative, though it is a relatively small one, and while it appears that she'll be a key player right from the get go in the movie, she doesn't even show up until the seventh book.
What this seems to indicate is that there will be some significant changes made in Stephen King's The Dark Tower in the translation from page to screen, and that's something that always gives fans pause. Or just straight up pisses them off. These concerns will probably be further amplified because of how passionate and rabid fans of King's work, and especially The Dark Tower, can be.
We last saw Abbey Lee on screen in Mad Max: Fury Road, and she'll show up later this month in Gods of Egypt, which looks totally bananas. In The Dark Tower, she joins a cast that already includes Idris Elba, who will play gunslinging hero Roland Deschain, and Matthew McConaughey, who will play the nefarious Man in Black. Tirana is described as having fake human skin, snakelike eyes, and is as sexy as she is dangerous. Sounds like an ideal part for Lee.
The first movie of what Sony hopes will be a sprawling franchise--there are books, comics, and more to mine for content--is based on The Gunslinger, the first of Stephen King's novels. That seems like a good place to start. The dark fantasy western centers on Roland Deschain and his relationship with Jake Chambers, his young protege--this will likely be the next big piece of casting news that drops. Given her role in the overall narrative, it will be interesting to see how Tirana fits into the story.
Nikolaj Arcel, who penned the Swedish adaptation of The Girl with the Dragon Tattoo, will direct The Dark Tower, and it is expected to hit theaters on January 13, 2017. It's in pre-production now, and will likely get moving in short order if Sony still plans to hit that date.
Your Daily Blend of Entertainment News