Deadpool Clip Has Tons Of New Footage, The Voice Of Colossus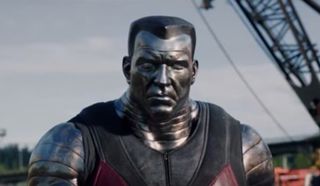 Now that Star Wars: The Force Awakens is finally in theaters and taking over the planet, between repeated viewings, we can start to get excited for Deadpool, which drops in February. The Merc with the Mouth's next big screen adventure promises to be something wholly different than the superhero films we're used to, especially the Marvel Cinematic Universe offerings. Full of blood, sex, swearing, and graphic violence, we're talking a hard R-rated movie here, and much of that is on display in the first TV spot. You also get a dose of the irreverent sense of humor and a few words from Colossus.
If you've watched any of the previous trailers for the Ryan Reynolds-starring Deadpool, this TV spot won't be too terribly shocking. We've seen much of this footage before, even down to the DMX song, and the bits that are new tend to follow the same lines as what has already been doled out.
As far as I know, however, this is the first time we've heard this incarnation of Colossus speak, and from this little snippet, he appears to fall more in line with traditional superhero thinking. You know, he's more about saving people than causing chaos and leaving a string of mangled corpses and destruction in his wake.
It makes sense that we haven't heard from the steel-skinned mutant yet, as we just learned that the character underwent a major change. Up until now, we all thought that Andre Tricoteux was playing the alter ego of Piotr Nikolaievitch Rasputin. That, apparently, is no longer the case, as Serbian actor Stefan Kapicic has been brought in late in the game as a replacement.
There was no specific reason given for why the 37-year-old veteran of TV shows like 24 and The Event replaced Tricoteux, though he is an admitted Deadpool fanboy, and with his accent, he reportedly fits director Tim Miller's vision of how the character sounds.
Depending on how big a role Colossus plays in the movie, this could be a big change to make at such a late stage. With the movie just under two months away, Kapicic only just finished his contribution last month.
We'll get to see Wade Wilson, Colossus, Negasonic Teenage Warhead, Ajax, Copycat, Weasel, and the rest of the unruly cast of characters when Deadpool hits theaters on February 12, 2016, just in time for Valentine's Day.
Your Daily Blend of Entertainment News
Thank you for signing up to CinemaBlend. You will receive a verification email shortly.
There was a problem. Please refresh the page and try again.