New Deadpool TV Spot Has A Ton Of Awesome Action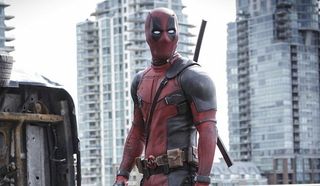 Can you feel that? We're less than a month away from the release of Deadpool, and what we've seen so far has fans of ultra-violent, profanity-laced comic books tenting their fingers with anticipation. This looks like the bawdy, bloody character we know and love brought to life—hell, the movie is apparently so violent it has been banned in China, which, while bad for its financial future, is just what fans want to hear. A new TV spot dropped over the weekend, and it's full of the sarcastic sense of humor we all want, not to mention a couple of crazy looking action scenes.
If this new Deadpool video feels a bit heavy on the sports metaphors, that's because it was unveiled during the various sporting events that took place over the weekend. It's short, and the general gist is similar to some things before—the bad guys tried to make Deadpool/Wade Wilson (Ryan Reynolds) a "super slave," they kidnapped his future baby momma (Gotham's Morena Baccarin), and then he has to do some killing—but there are a few bits that should make you giddy.
There's some footage that has shown up before, but those fight scenes between Deadpool and Ajax (Ed Skrein) still look pretty damn awesome. And that new bit where he dangles over the city skyline clinging to an iron lung is fantastic—excellent use of a cinematic iron lung. I can't wait to see that blasted across on an appropriately massive movie screen; that's going to be awesome.
Directed by Tim Miller, Deadpool promises to be a very different kind of superhero movie than we're used to. There's going to be big action and spectacle, of course, but from the get go, the intention was to stay true to the source material, which has means that there was little to no chance that this was going to be PG-13. In addition to the graphic violence and plenty of bad words, there also appears to be a good amount of sex to be had as well. And all of that is in addition to Deadpool's other peculiarities, like his penchant for breaking the fourth wall and directly addressing the audience.
When former special forces soldier turned mercenary Wade Wilson's body is wracked by cancer, he undergoes an experimental procedure that, while giving him accelerated healing, leaves him horribly scarred and a wee bit unstable in the mind department. With his new abilities, and the new identity Deadpool, he hunts down the people who ruined his life.
It's been a long time coming, but Deadpool is poised to hit theaters on February 12, just in time for a romantic Valentine's Day date, at least if you think blood splatter and sword play are romantic.
Your Daily Blend of Entertainment News