Dear Hollywood: Stop Punishing Us For Liking Jeremy Renner By Making Us Sick Of Him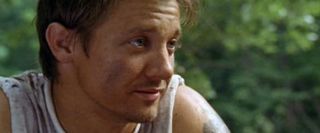 In theory I have nothing against Jeremy Renner being anointed as Matt Damon's replacement in the Bourne franchise, to start next year with The Bourne Legacy. Renner is an undeniably talented actor with a range we've probably only just begun to see, and yet another unconventional kind of 21st century action hero in the mold of Christian Bale or Damon himself. (Yes, those are both white men with significant muscle mass, but that's another editorial). Fresh off back-to-back Oscar nominations and a sterling reputation, he's exactly the kind of talented up and comer you want to see rewarded with the steady work and big bucks of his own franchise.
Except… we already saw him get rewarded with that, when he was cast as Hawkeye in The Avengers. And again when he cast as Tom Cruise's heir apparent in Mission: Impossible-- Ghost Protocol. And somewhere in there he also got the lead opposite Gemma Arterton, another star-of-the-moment, in Hansel and Gretel: Witch Hunters, which is such franchise bait it may as well be the name of a TV show. The Bourne role would make for four potential franchises he's at the center of, and guarantee he won't be in a movie made for less than $100 million until, what, 2015?
Right now all of this sounds great to moviegoers who saw Renner in The Town and The Hurt Locker and want to know what that intense guy is gonna do next. Right now we're not sick of Jeremy Renner-- but we're practically guaranteed to be after these four films are released within eight months of each other. Jeremy Renner will go almost instantly from "Hey, I'll see that guy in anything" to "Dear God, I'm sick of seeing that guy in everything." And he'll be partially to blame for taking the roles, sure, but also victim of a system that auditions countless actors for roles, then casts the same 5 guys who seem the most "marketable."
Look at the names that were also in the running for Bourne-- Joel Edgerton, Dominic Cooper, Taylor Kitsch, Oscar Isaac, Anthony Mackie. Or the guys who made it to the final round of consideration for Ghost Protocol-- Kevin Zegers, Christopher Egan, poor Anthony Mackie again. None of these guys have Oscar nominations or Renner's name recognition, but they also don't have three other franchises to carry, or the potential to wear out their welcome before the movie is even released. Mackie's fate in particular breaks my heart; he and Renner were a remarkable team in The Hurt Locker and shared many of the film's accolades, but fate and the cruel reality of race-based casting has losing out to his former co-star twice now for roles that could have transformed his career.
Plenty of actors have weathered this kind of overexposure and survived. Jude Law, ubiquitous in 2004, is a delightful and crucial element of the Sherlock Holmes films, and Colin Farrell, unfairly maligned in the early 00s as a waste-of-space party guy, knocks every single one of his recent performances out of the past. I have no doubt that Renner will put a worthwhile performance into every single one of these films-- even the few seconds of him as Hawkeye in Thor felt electric-- and will earn the rainfall of paychecks coming his way; if we're lucky, one or two of these movies will actually be good. But I won't stop wondering about the also-rans who could have carried these films equally as well, and dreading the day that seeing Renner's face on a movie poster is exhausting rather than exciting. Hollywood, in its unique and infuriating way, has figured out one thing we moviegoers like, and is rewarding us by bludgeoning us to death with him.
Your Daily Blend of Entertainment News
Staff Writer at CinemaBlend