Dhoom 3 Crowned Bollywood's Highest Grossing Movie Of All Time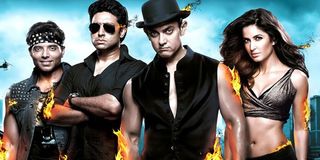 With the end of the year having just wrapped up, we've talked a lot about which domestic releases were winners and which came in tops at the box office. But just days into 2014, a box office record out of Bollywood has been shattered by an action movie called Dhoom 3.
THR reports the Bollywood blockbuster Dhoom 3 has earned $83.56 million worldwide. The equivalent to 5 billion rupees not only makes this third installment in the action-thriller Dhoom franchise the first Bollywood product to cross the $80 million mark but also makes it the highest grossing Indian film ever made. Making this accomplishment all the more impressive is that Dhoom 3 racked up $56.8 million in India and $25 million overseas in just over two weeks! The film only made its theatrical debut on December 20th.
What's all the fuss about? Check out Dhoom 3's trailer below.
Dhoom 3 continues the action-packed adventures of a magician/clown/acrobat who uses his skills to steal from a shady Chicago bank. While that basic premise also worked wonders for the US release Now You See Me, the key to Dhoom 3's success seems to be all about spectacle. As the third entry in a popular franchise, this movie didn't have the uphill battle of explaining to its key demographic what its about. Stacked with big Bollywood names like Aamir Khan, Abhishek Bachchan, Uday Chopra and Katrina Kaif, it had the additional allure of serious star power. And then on top of that, Dhoom 3 was made to break records. Reportedly its $24 million budget makes it the most expensive Bollywood production to date. And it broke new ground as the first Indian film to be released in IMAX with Dolby Atmos surround sound. Basically, Dhoom 3 isn't just another action movie, it is a cinematic event engineered to draw crowds.
Previous holders of the title of highest grossing Bollywood film went to 3 Idiots and Chennai Express. Released in 2008, 3 Idiots was a comedy about three grown men revisiting their college days. The willfully wacky laffer earned $60 million worldwide.
However this record was broken last year when the Deepika Padukone/Shah Rukh Khan vehicle Chennai Express debuted. The road trip romance made $63 million, which while impressive already pales in comparison to Dhoom 3. With this massive hit still set to expand to Germany, Peru, Romania, Japan, Russia, East Europe and Turkey, there's really no telling how big its box office total will grow over its theatrical run, and just how high the bar will be for anyone trying to beat it.
Dhoom 3 is currently playing in limited release in the U.S.
Staff writer at CinemaBlend.
Your Daily Blend of Entertainment News
Thank you for signing up to CinemaBlend. You will receive a verification email shortly.
There was a problem. Please refresh the page and try again.