Kenneth Branagh Is Definitely Not Coming Back For Thor 3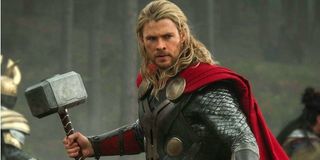 Those of you who were dreaming that Kenneth Branagh might be making a triumphant return to the Marvel Cinematic Universe for Thor: Ragnarok are set to be severely disappointed. That's because Marvel Studios President Kevin Feige has dismissed the recent speculation linking the English director with the upcoming blockbuster.
During a recent discussion with Collider to promote the pending release of Ant-Man, Feige was asked about the plans for Thor: Ragnarok, specifically whether Kenneth Branagh could be on the brink of ordering around Chris Hemsworth and Tom Hiddleston again. But the producer/executive was adamant in his response, and it seems like it's just not going to happen. Said Feige,
Short and sweet then. It had previously been teased that Marvel really wanted Branagh to direct Thor: Ragnarok, but they faced a battle to convince him as he was considering an offer to make Fox's Murder On The Orient Express.
It would have been interesting to see what Kenneth Branagh would have done with Thor: Ragnarok, though, as he previously did an impressive job on the origin story for the Nordic god. That's especially true when it came to the scenes on far off distant planets, while the opening battle scene between Asgard and the Frost Giants of Jotunheim is still one of Marvel's best fight sequences to date. Sure, he struggled when Thor got to Earth, but Branagh's excellent work on Cinderella suggested that he's learned the error of his ways.
If it's not going to be Kenneth Branagh, then who will take the helm of Thor: Ragnarok? That decision hasn't been made yet, but Kevin Feige indicated that an announcement could be made regarding the film's writer and director later this summer. He also teased that Marvel isn't completely sure if the movie will come from a writer/director or not.
Both Captain America: Civil War and Doctor Strange are being written and directed by separate parties, though James Gunn has recently completed his first draft of Guardians Of The Galaxy Vol. 2 and will soon put his director hat on as the sequel speeds its way into pre-production.
With Kenneth Branagh now out of the picture, it remains a bit of a mystery over who will take up the director's chair for Thor: Ragnarok. Adam McKay, Gareth Edwards, and Matt Reeves were previously touted as front-runners, and each would certainly bring excitingly idiosyncratic cinematic sensibilities to the third solo effort. At this point it's impossible to know who might be the front-runner, but with McKay's work on Ant-Man being roundly praised it would make the most sense if he was brought onboard.
Meanwhile, now that he doesn't have to decide between Thor and Agatha Christie, it's probably safe to assume that Kenneth Branagh's next project will be Murder On The Orient Express. .
Your Daily Blend of Entertainment News