Django Unchained Action Figures Being Pulled By The Weinstein Company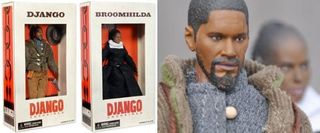 The Weinstein Company is not typically one to back away from taboo subject matter. In just the past few years they publicly warred with the MPAA over ratings for the raw and poignant drama Blue Valentine and the powerful documentary Bully, and have stood by their filmmakers in these instances and many others. But today, the production company behind Django Unchained has backed down in the face of the film's most unexpected controversy.
We reported earlier this month that the advocacy group Project Islamic Hope was asking that the movie's action figures—seen above—be pulled from the market, declaring that the dolls trivialize the atrocities of slavery. The group's leader Naji Ali clarified the point in news conference, explaining, "I actually enjoyed the movie, but we cannot support this type of commercialization."
The LA Times reports that since then Reverend Al Sharpton's National Action Network has joined the fight and called for supporters to boycott the collectible figures. And today the Weinstein Company has responded with this clear-cut statement:
It's worth noting that collectible action figures have been made of characters from each of Tarantino's films, so the Django dolls were considered a given when planning the movie's commercial prospects. And while they were intended for mature audiences—since the move is after all rated R—the Weinstein Company has done a rare about face by asking the toymaker NECA to discontinue the line.
Having followed this controversy closely, I've read compelling arguments in favor of and against the dolls. Some see these figures as a way to relish in one of the rare African-American cowboys to emerge in American cinema, where people of color are all too often underrepresented. Others see them as a painful and thoughtless reminder of a time when the people the toys represent were themselves bought and sold. While we can continue to debate the meaning of the dolls in comments, pulling them is an efficient way for The Weinstein Company to truncate this story, and pull focus back to Django Unchained's incredible rise and Oscar prospects.
Staff writer at CinemaBlend.
Your Daily Blend of Entertainment News
Thank you for signing up to CinemaBlend. You will receive a verification email shortly.
There was a problem. Please refresh the page and try again.