Doctor Who's David Tennant The Latest Rumored For Guardians Of The Galaxy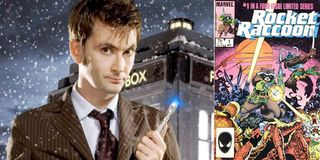 Come 2014, Marvel Entertainment will be expanding their movie universe even farther with Guardians of the Galaxy. Directed by Slither helmer James Gunn, this spin-off movie will center on a superhero team that includes an interplanetary policeman called Star-Lord, a resurrected revenger named Drax The Destroyer, Thanos' adopted daughter Gamora, an extraterrestrial/expert hunter known as Yondu, and a hyper-intelligent sharpshooting creature dubbed Rocket Raccoon.
Considering the wild popularity of Marvel's movies, we assume Gunn pretty much has his pick on who will join the latest evolution of this sprawling franchise. He's already snagged Parks and Recreation's Chris Pratt as Star-Lord, WWE wrestler Dave Bautista as Drax, Star Trek's Zoe Saldana as Gamora, The Walking Dead's Michael Rooker as Yondu, plus Lee Pace of Pushing Daisies as the movie's unnamed antagonist. Notably, Rocket Raccoon is currently uncast. While early reports suggested Jim Carrey or Adam Sandler were potentially in the mix to voice the creature, a new rumor has surfaced putting Doctor Who's David Tennant at the front of the pack.
The Facebook-based fansite Marvel Cinematic Universe is reporting the rumor, saying Tennant has been "tapped" for the role. At this point, we're treating this as only a rumor, but it's definitely fun to think about. Tennant has a devoted following from his time as the Doctor, and it seems a sharp idea to fold that fandom into Marvel more tightly. (Notably, Christopher Eccleston, another actor whose played Who, will be portraying Malekith in Thor: The Dark World.) But is Tennant right for the role of Rocket Raccoon? Tell us below:
This poll is no longer available.
Staff writer at CinemaBlend.
Your Daily Blend of Entertainment News
Thank you for signing up to CinemaBlend. You will receive a verification email shortly.
There was a problem. Please refresh the page and try again.