Dolph Lundgren Wants To Direct A Swedish Period Piece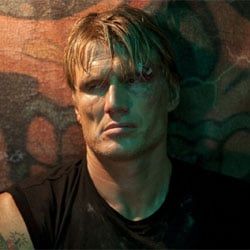 Suddenly everybody loves Dolph Lundgren again and it's totally understandable. He's been pretty much non-existent in the Hollywood realm for the last ten years or so as he's done mostly indie flicks, but now the action star has hit it big again with the slightly over-the-hill, action-star packed film The Expendables. The movie raked in $35 million in its opening weekend, took the number one spot at the box office, and now Lundgren is relevant again.
So what's next for this Master of the Universe? Well, aside from writing a fitness book for a Swedish publisher, Lundgren is working on a couple of scripts. There's one that he's just finished writing titled, Skin Trade, about human trafficking, and the other… a period piece? In an interview with the Hollywood Reporter, Lundgren states, "I'm trying to do something in Sweden, about Sweden or set in Sweden. I kind of think I belong in the past – onscreen, that is. I haven't done a period piece, and I think it will be fun." If he gets the money he needs, "Hopefully, I'll try to get a more famous actor as the lead, and I'd direct it and play the co-lead."
I'm all for actors trying their hand at directing. Sometimes it turns out great – think, the Leonard Nimoy directed Star Trek III - and sometimes not so much – William Shatner's Star Trek V. This thing can go either way, but if Stallone can do it, why not Ivan Drago?
Your Daily Blend of Entertainment News