Downton Abbey's Sophie McShera In Talks For Kenneth Branagh's Cinderella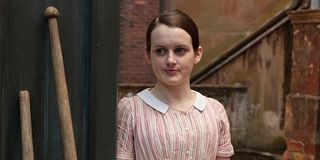 Kenneth Branagh's Cinderella is filling up with familiar faces from the small screen. The live-action re-imagining is set to star Downton Abbey's Lily James as the title character, with Game of Thrones' Richard Madden set to play the Prince. Yesterday, we learned that The Borgias beauty Holliday Grainger signed on to play one of the wicked stepsisters, and today comes word that Downton Abbey's Sophie McShera is in talks to play the other one.
THR reports that negotiations are underway for McShera to team up with Grainger to play mean stepsisters Drisella and Anastasia in the film. For those unfamiliar with the tale, Cinderella's an orphaned character who lives with her "wicked stepmother" and nasty stepsisters, who regularly ridicule her. Cate Blanchett will play the mentioned stepmother, and when considering all of these TV stars, the Oscar winner seems to be the odd-woman-out... unless we count her pre-Elizabeth miniseries work in the 90s.
Sophie McShera's likely best known for playing the role of Daisy Mason (or Robinson) in Downton Abbey. Though she plays a girlish, sweet and sensitive servant in the ITV series, I'm not having a hard time picturing McShera showing us a privileged and vicious side for this role, especially when paired with Grainger. The two could make an excellent intentionally-unlikable duo for this movie.
It seems like most of the key roles have been filled for this project, but we haven't heard any updates on the fairy godmother. With two Downton Abbey stars already onboard, I'm inclined to nominate Leslie Nicol for the role. She plays Mrs. Patmore on the British drama, and I think she'd make a fine godmother. We'll have to wait and see what other casting news comes for Branagh's film.
Your Daily Blend of Entertainment News
Thank you for signing up to CinemaBlend. You will receive a verification email shortly.
There was a problem. Please refresh the page and try again.