Game Of Thrones' Richard Madden Will Be Cinderella's Prince Charming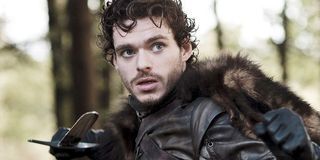 It's official! Disney has issued a press release naming Richard Madden as the Prince in their upcoming live-action re-imagining of Cinderella. The Scottish actor, who is best known for playing Robb Stark (King of the North!) on Game of Thrones, will be joining a cast that includes Downton Abbey's Lily James as the titular princess, and the ever-elegant Cate Blanchett as the evil stepmother, Lady Tremaine.
Madden was first mentioned as a contender for the part of Prince Charming back when James was facing callbacks, along with other potential Cinderellas, Bella Heathcoate (Dark Shadows), and Margot Robbie (Pan Am). With its leads finally secured, Cinderella is closer than ever before to stepping into production. It's been a rocky road to get this far.
You might remember that last winter the project was considering three different ingénues (Saoirse Ronan, Alicia Vikander, and Gabriella Wilde), back when Mark Romanek was lined up to direct. But by January he'd be dumped for the project over concerns he was making the fairy tale adaptation too dark for Disney's liking. By month's end, Kenneth Branagh committed to helm and soon Emma Watson was in talks for the lead…until she left to be Belle in Guillermo del Toro's forthcoming Beauty in the Beast. But let's get back to Madden.
Admittedly, I am only familiar with him as the noble and oft-brooding Rob Stark. But on Game of Thrones he's shown a skill with drama as well as a gift for winning the hearts of ladies onscreen and off. He definitely make a dashing Prince Charming. And with a script by comedy scribes Aline Brosh McKenna (The Devil Wears Prada) and Chris Weitz (About a Boy), it seems he'll have the opportunity to try his hand at warmth and whimsy too. I'm imaging Rob Stark mixed with Adventure Time's Prince Gumball, and I dig it.
Your Daily Blend of Entertainment News
Staff writer at CinemaBlend.