Well-Dressed Women Brawl In Theater Over Noise Level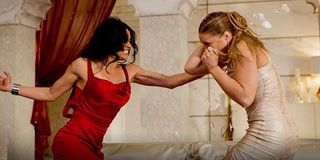 You're sat in a theater trying to enjoy the movie that you've paid your hard-earned cash to see, but two individuals behind you just won't stop jabbering on. Most of us simply sit and stew in our own anger rather than actually confronting the pair, but two women became embroiled in genuine fisticuffs because of the noise levels, and their altercation became so violent that one left with a deep, painful scar.
According to WSBTV, the entire incident unfolded at a cinema in Conyers, Georgia. To make matters worse, it all unfolded on Mother's Day. The victim, Paige Alexander, revealed that she visited the cinema to watch Age Of Adaline alongside her 74-year-old mother and 20-year-old daughter. Unfortunately, soon after sitting down she quickly realised that she was in front of two women who wouldn't stop talking. Alexander decided that this was the perfect time to deliver a stern turn of the head to the pair – which is the universal signal for, 'Please can you shut the hell up.'
This didn't work, though. In fact, Alexander explained:
Then as the credits rolled and moviegoers headed towards the exit things soon took a nasty and violent turn. Rather than discussing how emotional Blake Lively and Michiel Huisman's performances had been, the parties became embroiled in a fight.
This is where the incident gets a little bit fuzzy. Another eyewitness to the entire debacle explained that both groups shouted insults at each other. But Alexander insisted that her role was much more reserved and she was only provoked into fighting back after one of the women shoved her daughter. This was preceded by another lady shouting in her face, "Go to hell" and "What you gonna do? What you gonna do?"
After stepping in between the aggressive woman and her daughter, Alexander explained that she told her not to put her hands on her child. At this point though all hell broke loose and Alexander said that a head-lock, scratching, and squeezing went down, and her attacker even made her bleed. You can check out an image of Paige Alexander's scratch below.
Alexander told My Fox Atlanta, that her assailant was yelling and cursing, then pushed her and grabbed her throat to choke her. The instigator and her companion soon left the theater and are still at large. An eyewitness explained that they left the scene of the crime in a red small SUV that had a Newton County license plate. Police revealed that they've got some good leads on who might have committed the assault. Until they're caught, anyone in the Conyers area had better be wary about asking someone to keep their voice down in the cinema.
Your Daily Blend of Entertainment News