Dumbledore In Fantastic Beasts? Here's What Michael Gambon Says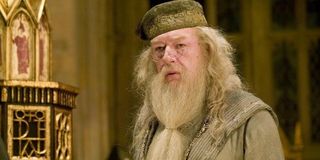 Harry Potter And The Deathly Hallows – Part 2 brought the beloved franchise to an end back in 2011, but the release of Fantastic Beasts And Where To Find Them later this year is set to give Potter fans another cinematic dose of wonderful wizardry. Even though Harry Potter and Fantastic Beasts aren't directly connected – they're set in the same universe, but decades apart – that hasn't stopped Michael Gambon from pleading his case to be involved in the spin-off. In fact, the legendary actor has devised the perfect plan for how he can feature.
Michael Gambon, who replaced Richard Harris in the role of Albus Dumbledore for the final six Harry Potter films, outlined his idea to the Express while talking on the red carpet for Dad's Army. After admitting that he might be a tad too old to play a younger version of his character, he then insisted that he could just play Dumbledore's father.
Not only would that make perfect sense, but it would also be something that every single person with even a passing interest in both the Harry Potter and Fantastic Beasts And Where To Find Them franchises would absolutely adore to see. That's because Michael Gambon as Albus Dumbledore was one of the most endearing traits of the Potter franchise. He was just so wise. But even without Gambon's Dumbledore, Fantastic Beasts is shaping up rather nicely.
With J.K. Rowling writing the screenplay, an adaptation of her own book, and David Yates, who directed Harry Potter And The Order Of The Phoenix, The Half-Blood Prince, and The Deathly Hallows Part 1 and Part 2, returning in the same role, Fantastic Beasts will almost certainly have the same spirit, energy, and tone of the these films.
Plus, they've also assembled an absolutely sterling new cast, which is led by the Oscar-winning star of The Theory Of Everything ,Eddie Redmayne, and also includes Inherent Vice's Katherine Waterston, The Flash's Ezra Miller, and then the sensational acting talent of Samantha Morton, Ron Perlman, Jon Voight, and Colin Farrell.
If that's not enough then it's also rather enchantingly set in 1926 in New York City, and, well, just watch the trailer to see what all the fuss is about.
I know what you're thinking: it could still do with a little more Gambon. Fantastic Beasts And Where To Find Them will finally be with us on November 18, and you can expect plenty more sequels to follow once it makes its expected box office splash.
Your Daily Blend of Entertainment News
Thank you for signing up to CinemaBlend. You will receive a verification email shortly.
There was a problem. Please refresh the page and try again.