Dushku Pushes True Lies 2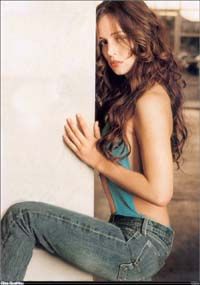 It's been rumored for a very long time, but I think we all assumed that once Arnold went into politics and Jamie Lee Curis aged overnight, that any chance for a True Lies 2 was over. Ok, Tom Arnold has been insisting on it… but he's Tom Arnold. No one listens to him. Well, maybe we should according to JoBlo.
They dug up a recent interview with sexpot Eliza Dushku in which she talks about doing another. A very young Miss Dushku, you may remember, appeared in the original True Lies as Arnold's Harry Tasker character's daughter. She has this to say about a followup: "We all caught up Me, Jamie Lee, Arnold, and Jim, to talk about True Lies 2, about a month ago in California. We're Doing it. Definitely doing it. I'm revved."
Even if this conversation between the four of them really happened, you have to believe a lot of it will depend on what Arnold ends up doing politically. I mean, there is no sequel without him… at least I hope there isn't. No one's eager to see Tom Arnold in anything other than a supporting role folks.
Your Daily Blend of Entertainment News
Thank you for signing up to CinemaBlend. You will receive a verification email shortly.
There was a problem. Please refresh the page and try again.