Dylan McDermott To Front Action Thriller Freezer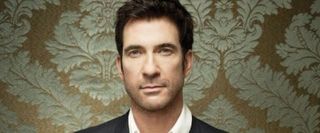 As a lead in the first season of the deranged and deeply creepy drama series American Horror Story, Dylan McDermott has helped paint incredible portraits of terror. Years back he was again and again playing the slightly smug yet handsome love interest in light-hearted films like Home for the Holidays and 'Til There Was You. But thanks to the haunted house show, he now comes off as a darkly dreamy everyman with something to hide. So it's perfect casting that McDermott has been picked to front the upcoming action-thriller Freezer.
Penned by Tom Doganoglu and Shane Weisfeld, Freezer focuses on a seemingly everyday guy who is thrown into an extraordinary—and terrifying—circumstance. McDermott will star as Robert, a man who is abruptly kidnapped by Russian thugs and locked inside an industrial freezer for reasons unknown. These merciless men demand he give them the $8 million he has stolen from them. This seems a pretty straightforward request, except Robert has no idea what they are talking about. But as he shivers and struggles to survive the freezer's relentless cold, the shocking true begins to emerge.
Cinematographer turned director Mikael Salomon will helm Freezer. And with episodes of Band of Brothers and The Cold War to his credit, he seems more than qualified to handle the sure-to-be tension-packed thriller. Envision Media, the production company behind the quirky rom-com Celeste & Jesse Forever and the killer cabbie thriller Chained, will produce.
Production on Freezer is anticipated to kick off in the fall of 2013. In the meantime, look for McDermott in Antoine Fuqua's White House-set thriller Olympus Has Fallen, which will hit theaters on March 22nd.
Staff writer at CinemaBlend.
Your Daily Blend of Entertainment News
Thank you for signing up to CinemaBlend. You will receive a verification email shortly.
There was a problem. Please refresh the page and try again.