Ed Burns Will Challenge Elizabeth Banks In Man On A Ledge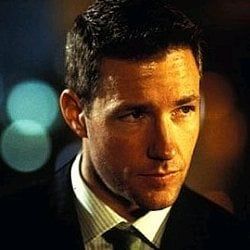 Edward Burns, the filmmaker and actor who is doing his best to define New York movies the way Woody Allen did, has found another role that will keep him close to home. THR reports that Burns has joined the cast of Man on a Ledge, the Summit thriller that starts shooting in Manhattan later this month. He'll play a rival hostage negotiator challenging Elizabeth Banks's character, who is trying to talk Sam Worthington's character, well, down from a ledge. Based on previous plot descriptions we know that Banks's character has had a previous romantic relationship with Worthington, so when Burns's character suggests she has a conflict of interest, she probably has a point there.
Also signing on is Genesis Rodriguez, an actress probably best known for two episodes of Entourage, though she also had a long-running role on something called Dona Barbara, which I won't insult by pretending to know anything about. She'll also pop up as the lead in Casa de mi padre, the Spanish-language film that somehow also stars Will Ferrell. In Man on a Ledge she'll be playing the girlfriend of Jamie Bell's character, a bank robber and brother to the man on the ledge who is executing a heist across the street. Yes, it does sound a little overly complicated, doesn't it? We'll see how director Asger Leth manages to put all the pieces together; I'll inevitably run across the set when I'm in a hurry to get somewhere and they block the street, so I'll keep you posted on what I see.
Staff Writer at CinemaBlend
Your Daily Blend of Entertainment News
Thank you for signing up to CinemaBlend. You will receive a verification email shortly.
There was a problem. Please refresh the page and try again.