Ed Helms Goes Boy Band In New Clip From The Goods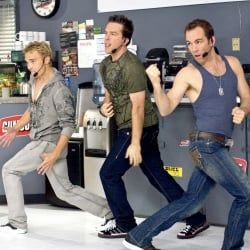 It seems like this is the summer that the world beyond Office fans will get a taste of Ed Helms' vocal stylings. Because Andy Bernard's a capella "Rockin' Robin" just isn't enough for the world, this summer we've gotten his song about tiger dreams in The Hangover, and now a straight-faced boy band parody "Doin' It," from the new comedy The Good: Live Hard, Sell Hard.
I admit, I haven't been paying the remotest bit of attention to this movie. But even if you're as ignorant as I am, the Funny or Die clip is absolutely worth watching. Plus you can get a little context by watching the red-band tailer for the clip below, in which you see a bit of the boy band video and meet Ed Helms as the villainous, rival car dealership owner, trying to put Jeremy Piven's character out of business. Yes, it looks ridiculous and silly, but hey, it's August. Why can't we have some Ed Helms in tight pants and call it a day?
Big Ups - Doin It Exclusive Music Video from Joey Kern
Your Daily Blend of Entertainment News
Staff Writer at CinemaBlend