Edgar Wright's Next Movie Took A Big Step Forward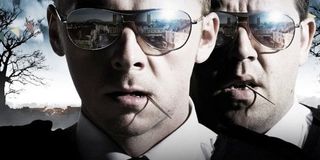 Everyone loves Edgar Wright. How can you not? He's overseen some of the funniest and most relentless films of the last decade, all of which have been punctuated with his uniquely visceral style behind the camera. Unfortunately, since he dropped out of Ant-Man last year, we've been waiting patiently for the English director to step back into action. Now we have an update that indicates production on Wright's next film could be just around the corner.
Deadline reports that screenwriter Mark L. Smith has completed a deal to tackle the latest draft of Collider, the film Edgar Wright has been attached to direct for Paramount and Bad Robot. And if that isn't enough to get you excited, surely the fact that Star Wars: The Force Awakens, Mission Impossible 3, and Star Trek director J.J. Arbams is onboard to produce will.
Unfortunately, that's really where the excitement abruptly comes to a halt regarding Collider, because any further information about the film is still at a premium. In fact, even the logline for Collider is being kept firmly under wraps.
All that we do know is that Mark L. Smith is an astute choice to firm up and add a second draft to Colldier. Mark Protosevich, the man who brought the scripts for the underrated Poseidon and I Am Legend to life, as well as having a story credit on Thor, wrote the first draft. But, as is Hollywood's want, Paramount and Bad Robot, as well as probably Wright himself, soon decided that the script needed a fresh coat of paint. So they turned to Smith.
Smith is certainly a sturdy pair of hands to do the job, too. Having had an inauspicious start to his career with not just 2007's Vacancy but its prequel Vacancy 2: The First Cut, Smith has most recently worked alongside Academy Award-winning director Alejandro Gonzalez Inarritu (Birdman) on The Revenant, the trailer for which was released earlier this year to huge acclaim. Don't remember? Check it out below.
Smith is also hard at work rewriting Ghost Recon for Warner Bros., while he's developing Norse with the same studio, too. The Revenant's Leonardo DiCaprio is attached to star in the latter. Coupled with his work on Collider, this suggests that Smith is going to be a rather busy boy over the next few weeks and months.
Edgar Wright, of course, rose to prominence across the pond with his Cornetto trilogy: 2004's Shaun Of The Dead, 2007's Hot Fuzz, and 2013's The World's End. Before this trifecta of films, he also worked on the cult television hit Spaced. In between, he co-wrote and directed Scott Pilgrim vs. the World, co-wrote The Adventures Of Tintin: The Secret Of The Unicorn, and co-wrote and devised the story for Ant-Man – a film he was supposed to direct. Fingers crossed he will have better luck now with Collider – a film we can probably expect to see in 2017.
Your Daily Blend of Entertainment News
Thank you for signing up to CinemaBlend. You will receive a verification email shortly.
There was a problem. Please refresh the page and try again.