Elle Fanning To Play Mary Shelley For Wadjda Director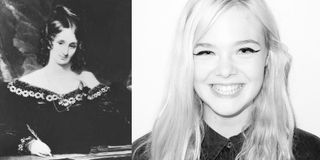 She's played a dream girl, a princess, and a ghost. Now 16-year-old Elle Fanning is set to play the queen of horror, bringing to life the story of Mary Shelley, the author of Frankenstein.
THR reports Elle Fanning has signed on to front A Storm In The Stars, a romantic drama that will unfurl the love story that developed between charming poet Percy Shelley and a 17-year-old aspiring writer named Mary Wollstonecraft. Within a year of meeting, the pair would marry and Mary would go on to write the novel that is still impacting the horror genre. But despite her early entry to love and legacy-defining prose, Mary Shelley's story was not without drama.
The script by Emma Jensen will draw attention to how Mary Shelley was a woman far ahead of her time. She came from a family of intellectuals, and so was educated in a fashion that was unusual for a young woman. And with it she chose to write genre stories, another usual move. A Storm In The Stars sounds like it will offer a meaty role for Elle Fanning, who, like her sister Dakota, is quickly earning a reputation as a stellar ingénue.
After years landing small roles in mature dramas like Babel and Reservation Road, Elle Fanning had a major breakthrough with Super 8, essentially stealing the movie from its everyboy lead Joel Courtney. Next she won critical notice with a strange but captivating supporting role in Francis Ford Coppola's Twixt then as the mesmerizing lead of Sally Potter's Ginger & Rosa. This year she's a major part of the box office smash that is Maleficent, in which she plays Princess Aurora. But A Storm In The Stars could be a terrific venue for Fanning to grow as an actress.
Making the film even more enticing is that it will be Haifaa Al-Mansour's follow-up to her critically adored narrative debut Wadjda. You might recall that this coming-of-age drama, which I had the pleasure to review out of the Tribeca Film Festival, was the first feature film to be shot entirely within Saudi Arabia. Even more remarkable, Al-Mansour is a woman, and the only female filmmaker Saudi Arabia currently claims, in part because of a society that subjugates women in many aspects of public and professional life. I couldn't be happier to hear that Al-Mansour has a film in the works so soon. And that it's one that is so promising from its inception is just gravy.
On top of that, Al-Mansour seems a perfect pick for the helm of A Storm In The Stars as it's a drama that seems to focus on a heroine who refuses to be hemmed in by the norms of her oppressive society. This was a theme in Wadjda as well, as that winsome movie focused on the title character, an adolescent girl who dreamed of owning a bicycle of her own, despite the fact that it's looked down on for girls to do such a thing.
Befitting of its subject matter, A Storm In The Stars is a film that is written by a woman (Emma Jensen), about a woman (Mary Shelley), directed by a woman (Haifaa Al-Mansour) and produced by women (Amy Baer, Joannie Burstein, and Rebecca Miller through Gidden Media). Such a thing is exceedingly rare, and so is noteworthy whatever your politics.
From here, it'll be interesting to see who Al-Mansour picks to play the love-struck poet, opposite Elle Fanning's Mary. For now, A Storm In The Stars is seeking financing with an eye toward shooting in 2015.
Staff writer at CinemaBlend.
Your Daily Blend of Entertainment News
Thank you for signing up to CinemaBlend. You will receive a verification email shortly.
There was a problem. Please refresh the page and try again.