Ellen Page, Cillian Murphy Going A Little Crazy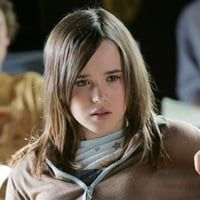 Ellen Page's career is blowin' up now that Juno has become a bona fide surprise hit, and every week she seems to announce a new role in a strange-but-exciting project. Next up is Peacock, which The Hollywood Reporter describes as a psychological thriller about a man with split personalities. Cillian Murphy will co-star, as a man who convinces the residents of his small town that his two personalities are a married couple. Wait, what? I know Murphy played a drag queen in Breakfast on Pluto, but can one crazy guy really be that convincing?
Page will play a young mother in the same town who somehow sparks a battle between the two personalities. Is this the beginning of Ellen Page being typecast as a woman too young to have a kid? Eh, probably not. She seems a little too smart for that. And if she's as smart as we think she is, this screenplay is awesome; she told the Reporter, "This is one of the boldest screenplays I've come across in my albeit short career. It's a character and story I can throw myself into and exactly the type of movie I love to be part of."
Murphy, too, had high praise for the script: "Peacock stunned me as a script from start to finish. It offers an incredible challenge to an actor -- one I couldn't turn down." So its this completely crazy-sounding movie actually going to be good? Cillian Murphy has been really good at playing nutjobs in the past, from the killer in Red Eye to the supervillain Scarecrow in Batman Begins. And Ellen Page, as we know, is pretty game for just about anything, and seems totally capable of being a key part of a supernatural thriller. So for now, I'm staying optimistic. Cillian Murphy may not be leading man status yet, but he's so good at playing psychos, I'm happy for him to stick to that for now.
Staff Writer at CinemaBlend
Your Daily Blend of Entertainment News
Thank you for signing up to CinemaBlend. You will receive a verification email shortly.
There was a problem. Please refresh the page and try again.