Eminem Revisits The Wild Wild West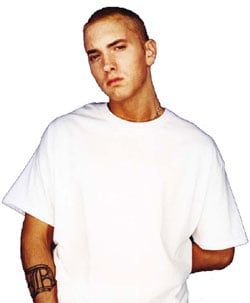 Before Eminem came around, white rappers were a complete laughing stock—look no further than Vanilla Ice. And while he may not be the sanest kitten in the litter, there is no denying that Eminem has genuine talent as a rapper. Whether he can truly act, however, is still up for debate.
He made his debut in 2002's 8 Mile, and hasn't made a run for Hollywood since. Until now. According to Variety, Slim Shady will star in the big screen adaptation of the CBS series "Have Gun-Will Travel" for Paramount Pictures and Interscope/Shady/Aftermath Films. The TV Western-themed show premiered in September 1957, and revolved around Richard Boon as Paladin, playing a gunfighter-for-hire.
The film will not feature Eminem strolling with cowboy hats on the open range. Instead, it will be updated to contemporary times and show him playing a bounty hunter, possibly in his hometown of Detroit, and he will likely be involved with the soundtrack. Have Gun-Will Travel is in the early stages of development and no release date has yet been set.
Your Daily Blend of Entertainment News