Enter The Cinema Blend Halloween Costume Contest!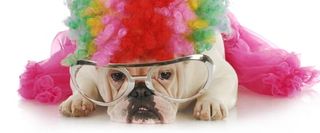 Hopefully by now you've already gone shopping for the wig, false eyelashes, plastic helmet, full body suit or whatever else you need to create the perfect Halloween costume. If you're a movie fan, there's really no better excuse short of Comic Con to dress up as your favorite movie or TV character and live someone else's life for a day. We know you guys have some killer costumes to share, and we'd like you to share them with us in our second-ever Cinema Blend Costume Contest.
If you've got photos of a movie or TV-related costume from a previous year, or you're really on the ball and already have photos from this year, submit them to us by 12 am on Halloween-- Monday, October 31-- to enter the contest. We'll select three winners and send them various secret prizes from the Cinema Blend vault-- not to spoil anything, but there might be some DVDs in it for you.
How do you enter? Just click on over to our Facebook page, "Like" it if you haven't already, and then leave a comment on this contest post. Include with the comment a link to a photo-- a photo on Facebook, please-- of your costume, be it your kid, your dog, or actually you. You can provide more context for the costume on the photo itself, so please keep the wall posts simple.
The winner will be notified via Facebook direct message (so PLEASE make sure we can contact you that way) and asked to provide their mailing addresses (no P.O. boxes please). Prizes will be mailed directly to the winner. No purchase necessary. Failure to comply with the rules will result in disqualification and subsequent mockery. Good luck!
(Image via WilleeCole (opens in new tab)/Shutterstock (opens in new tab))
Your Daily Blend of Entertainment News
Thank you for signing up to CinemaBlend. You will receive a verification email shortly.
There was a problem. Please refresh the page and try again.