Eric Bana Will Be King Arthur's Dad In Knights Of The Round Table, Get The Details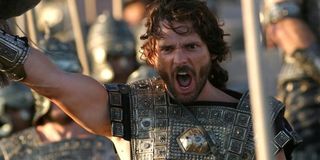 The upcoming rendition of Knights of the Round Table has just cast itself a new fatherly figure. Eric Bana has joined the Arthurian blockbuster from director Guy Ritchie (whose The Man from U.N.C.L.E. trailer just dropped yesterday). The former Hulk and Troy star is set to play the father of the timeless tale's iconic protagonist and future legend lore king, Arthur Pendragon. Bana will join what is increasingly becoming an impressive cast for this ambitious redux, kicking off what the studio hopes will be a six-part series of films.
According to Variety, Bana has nabbed the role of Uther Pendragon, the plate-wearing paternal figure for the future King Arthur. Playing what has been described as not an overly significant role, Bana will join confirmed cast member Charlie Hunnam who will play his son, and peers in Jude Law and Djimon Hounsou in the Knights of the Round Table movie.
Interestingly enough, the casting of Bana seems a bit age-inappropriate, seeing as the 46 year-old Bana will be playing daddy to a 34 year-old Charlie Hunnam (who is topical this week thanks to the fact that he once landed the Fifty Shades of Grey Christian role for about five whole minutes). However, not much is known about the plot, other than the fact that Arthurian legend will provide the framework for this new series. Of course, seeing what Ritchie did as far as creative changes with the Sherlock Holmes canon, we probably shouldn't assume that the movie will be taking the source material as gospel. Regardless, we could be looking at either some aged makeup for Bana or a flashback type situation.
Liam Neeson, who is a good 16 years older than Bana, was apparently in negotiations for the part, but ultimately decided to pass. This fact may support the "flashback" theory. Uther's basic role in the legends essentially involve the fate-driven, magic-intervening conception of Arthur. Apparently the necessary steps towards conceiving the once and future king required the sorcery of the wizard Merlin to magically manipulate the wife of Uther's enemy, Gorlois, into a titanic tryst with Uther. The enchanted session of magic-cooked cuckolding was part of fate that would bring Arthur into the world to fulfill destiny
The subject of Merlin serves to highlight one possible difference in store for this Ritchie-adapted tale. Coming off the momentum from his role in Guardians of the Galaxy, Djimon Hounsou was reportedly circling the role of a "Merlin-esque" character, after Idris Elba dropped out, due to scheduling conflicts. That bit of news dropped a few months ago and there haven't been any updates since. However, it is entirely possible that this film will look to distinguish itself with a black Merlin. It certainly seems like it could be a measure taken by Ritchie to ensure that folks who are probably sick of the same ancient, conveniently public domain legend, over-done in both film and television, to at least do a double-take.
Yet, the 800 lb. gorilla for this project is the idea that Warner Bros. is attempting to turn this rendition of Knights of the Round Table into a SIX film series. Whether it's due to hubris or legitimate enthusiasm for what's been pitched, it's clear that this franchise road map makes Peter Jackson's cinematic filibustering strategy with The Hobbit films look brief and muted.
Knights of the Round Table was last reported to be scheduled to swing Excalibur at theaters on July 22, 2016. However, there's no word, yet on its FIVE prospective sequels.
Your Daily Blend of Entertainment News