King Arthur Lands A Summer 2016 Release Date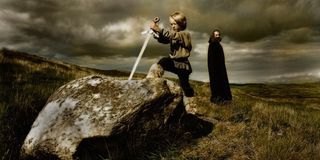 King Arthur is about to see new life, in an ambitious new film that sees Warner Bros. go all-in on an untested medieval franchise. The Joby Harold-scripted, Guy Ritchie-directed King Arthur is the WB's boldest franchise decision yet, giving enough confidence to march forward with tentpole ambitions and an insane six movie slate. Where does that slate begin, you ask?
The studio has claimed July 22nd, 2016 as a release date for King Arthur, a heavy and competitive slot. That's always been Warner's sweet spot, where they released The Dark Knight movies amongst other massive blockbusters. Those '16 slots are filling up, and Ritchie is clearly the WB's man of the hour: after guiding the Sherlock Holmes series to a billion dollars, he's been entrusted with next January's The Man From U.N.C.L.E., and likely had his choice of WB series', eschewing the WB's stop-and-start superhero franchises and the ill-advised Akira redo among others.
This King Arthur is said to be loosely based on the collection of stories called Le Morte d'Arthur by Sir Thomas Malory, a compilation of tales from the fifteenth century regarding Arthur's adventures with the Knights of the Round Table. Some pretty high-falutin' connections there! This was originally one of a couple of competing King Arthur projects: a David Dobkin (The Wedding Crashers) directed version nearly took flight at the WB awhile ago until the studio had budgetary concerns. All parties concerned are hoping they avoid comparisons to 2003's King Arthur, Jerry Bruckheimer's beefed-up version of the mythology with Clive Owen and Keira Knightley.
July 2016 is filling up quickly, and it's telling that the WB is standing their ground on the Superman/Batman movie at the beginning of that May while announcing another film that takes up a date the superhero saga could have used. Right now the 22nd is unoccupied, so the WB has planted their flag, but the week before Fox unleashes another Ice Age and a week later the next Planet Of The Apes movie hits. The month is also beginning with a second Independence Day, the Angry Birds movie, Tarzan and, oh yeah, an unannounced Marvel movie on the 8th.
The likely play is for worldwide dollars here. Hollywood has gone increasingly international with foreign receipts making up a huge percentage of a film's profit there days, particularly with the advent of 3D. And so it makes sense they'll look at a few properties that have a greater reputation overseas than they do stateside. And 2003's King Arthur, considered a flop by many, generated a solid $151 million overseas compared to only $51 million in America. The interest regarding the character seems like an international success rather than a domestic one, so selling the story to America is really the next best strategy for this production team, particularly if they want to follow the film with FIVE sequels.
Your Daily Blend of Entertainment News
Thank you for signing up to CinemaBlend. You will receive a verification email shortly.
There was a problem. Please refresh the page and try again.