Ethan Hawke, Julie Delpy, And Richard Linklater Planning Third Before Sunrise Film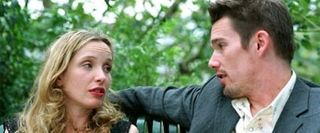 Geez, talk about dragging a relationship out. Back in 1995, Ethan Hawke and Julie Delpy played Jesse and Celine, two strangers who meet on a train and spent one magical night together in Vienna before going their separate ways. In 2004, the star-crossed lovers ran into each other again, this time in Paris, and again flirted with the possibility of what their lives would be like together before, again, heading off in different directions. Now it sounds like director Richard Linklater and stars Hawke and Delpy are thinking about reuniting Jesse and Celine yet again for a second Before... sequel.
The Playlist called our attention to the news, which originated in an interview Hawke gave to the French website Allocine. According to Hawke, the trio have been itching to put together a new entry in the series, possibly aiming to shoot next summer. Said Hawke,
If they work the same way they did on Before Sunset, all three of them will collaborate on the screenplay and then Linklater will direct, so it will likely depend on whether they can find a mutual gap in their schedules. Fingers crossed, lovers of romantic philosophizing and unfulfilled love.
Your Daily Blend of Entertainment News
Thank you for signing up to CinemaBlend. You will receive a verification email shortly.
There was a problem. Please refresh the page and try again.