Evan Goldberg Has Big Ideas For This Is The End Sequel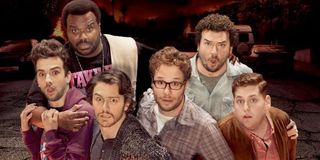 Oh my God, are they back again? Friends and writing partners Seth Rogen and Evan Goldberg crushed it when they scripted the crude coming-of-age comedy Superbad years ago, but they really upped the ante with This is the End, an end-of-the-world dark comedy they not only wrote but also directed. Starring a batch of Rogen's bros/recurring collaborators, the wildly funny feature followed what happens to Rogen, James Franco, Jay Baruchel, Danny McBride, Craig Robinson, Jonah Hill and a cluster of other comedy stars (like a coked out Michael Cera) when the Rapture descends on Los Angeles. By fearlessly poking fun at their personas, this crew won over audiences and critics, earning rave reviews and $60 million dollars in just two weeks of domestic release.
Considering the film only cost $32 mil to make, it's little surprise that prospects of a sequel are being considered. "But wait," you might wonder. "How do you make a sequel to a movie that is literally about the end of everything?" Well, while doing press to promote the film's upcoming UK release, Goldberg dished on how such a thing could occur to Screen Daily:
He continued with an even more confounding consideration, "We have a lot of ideas: a heaven and hell, for example, and a Garden of Eden version where Danny [McBride] is Adam." Basically, at this point it sounds like Goldberg and Rogen are just spit-balling weird ideas. But what are the chances of This is the End 2 actually coming to fruition? The simple answer at this point seems to be slim to none. For one thing, Goldberg is quick to admit it was a bit of great luck that allowed them to align the schedules of their stars the first time around, adding, "I honestly don't know if we could get the guys together (again)."
But the bigger obstacle might be Rogen. When Goldberg was first asked about the possibility of a sequel, he responded candidly, saying, "If you ask me, I'd say there's a good chance of sequel. If you ask Seth, he'd say no. So, we'll see."
Personally, I think This is the End is terrific, and could well be the funniest movie of the summer. But part of why it worked was because of its outrageous premise, following stars who have no idea how to take care of themselves thrown into a situation of absolute inescapable chaos. Whether scrounging for food, arguing over masturbation etiquette, or scaring the hell out of Emma Watson, this bumbling band of bros was rip-roaringly funny. A major part of that was their willingness to make themselves—well a version of themselves—look like absolutely damnable assholes. Would it be as funny the second time around when the stakes would be forced to be much, much lower? I doubt it.
Thankfully, Goldberg and Rogen already.have a different project on tap The pair are set to helm The Interview, a comedy that will star Franco and Rogen as a talk show host and his producer who become accidentally entangled in an assassination plot to kill Korean dictator Kim Jung-un. With Sony backing the project, The Interview is expected to shoot this October.
Your Daily Blend of Entertainment News
Staff writer at CinemaBlend.