Even Steven Spielberg Is Afraid Of Opening A Movie Opposite Star Wars: Episode 8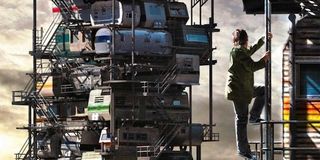 With the release of the seventh installment, we learned that Star Wars is still a bonafide cultural powerhouse. You probably guessed as much from the $2 billion-and-counting worldwide box office haul for Star Wars: The Force Awakens, but that far, far away galaxy still has some fan cache. But so does Steven Spielberg. His most recent film, Bridge of Spies, may not have been a juggernaut, but it's up for a Best Picture Oscar later this month. Still, even the master is wary of going head-to-head with Star Wars.
Originally slated to open in March of 2017, the Rian Johnson-directed Star Wars: Episode VIII is set to continue the saga, but needing a script rewrite, it was pushed back to December 15 of that year. Steven Spielberg's next movie, an adaptation of Ernest Cline's novel Ready Player One, was scheduled for that same day, but according to The Hollywood Reporter, the competition was too stiff and that release has been moved to March 30, 2018.
All in all, this is probably a smart move. While we saw the likes of Daddy's Home and The Revenant do reasonably well against Star Wars: The Force Awakens in bits of counterprogramming, others like Sisters, Point Break, and the latest Alvin and the Chipmunks movie were buried beneath the Star Wars onslaught.
For a movie the size of Ready Player One, a decent box office showing won't be enough for the studio. And there's bound to be crowd crossover in the fan base for Ready Player One and Star Wars, as the former is steeped in geeky, nerdy, sci-fi culture of all varieties, including many references to George Lucas' space opera. Probably best to give the two some space.
First published in 2011, Ernest Cline's novel quickly became a cult favorite—it also had a movie deal in place before it hit bookstores. Set in a dystopian future, most of the population jacks into an online virtual reality world called Oasis to escape the dreary, crushing realities of daily life and do everything from go to school and work to hang out with friends. The creator of Oasis died without any heirs, but left an elaborate, in-world scavenger hunt full of pop-culture related clues, and the person who solves this puzzle wins Oasis and instantly becomes the richest, most powerful person in the world. Wade Watts is the hero, a poor kid who literally lives in a stack of mobile homes, and the action follows him as he tries to figure out the clues.
It will be interesting to see what Ready Player One looks like on the big screen. The vast majority of the action takes place in virtual reality as the characters control avatars. The story is also infused at every turn with pop culture references, hundreds and hundreds of them, and getting the rights to use all of them will be tricky—Steven Spielberg has already said they're cutting any references to his own work. Reading the book it seems damn near impossible to adapt.
No one has been cast as Wade yet, but Olivia Cooke (Me and Earl and the Dying Girl) will play Art3mis, Wade's competitor, friend, and love interest. Ben Mendelsohn, who will actually show up in Star Wars in Rogue One later this year, has signed on to play the villain, an executive for an internet company that also wants control of Oasis.
As tricky as this may be, now they have a little extra time to work on Ready Player One, as it won't arrive until March 30, 2018.
Your Daily Blend of Entertainment News