Every Major Marvel Villain Through Phase Two, Ranked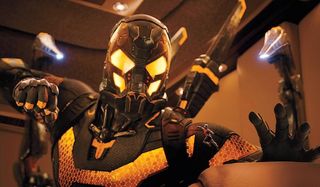 Nearly three weeks ago, Marvel released Ant-Man, their smallest adventure yet… well, more literally than figuratively, anyway. Not only was this Marvel's last film of 2015, but it's also the last entry in Marvel's Phase Two film slate, which began in 2013 with Iron Man 3. Marvel will kick off Phase Three next year with Captain America: Civil War, and this next block of films will end in 2019 with Inhumans. Of course, while all these films feature heroes as protagonists, they wouldn't be exciting without a villain causing chaos.
Now that Phase Two is completed, we've decided to take a look at how every major antagonist Marvel has featured over the last seven years ranks, from the ones we simply can't get enough of to the folks who we're glad will never return. Keep in mind that while there are a variety of secondary villains in this universe (Winter Soldier, Nebula and Justin Hammer being among of my favorites), this list is only focusing on the lead adversaries that have been featured on the big screen. Let's take a look!
12. Malekith
Thor: The Dark World's main antagonist is about as cookie cutter of a villain as you can get. Like most of the people on this list, Christopher Eccleston's acting was by no means bad. But Malekith's generic plan to achieve vast power simply so he can destroy everything is unimaginative and boring. It harkens back to the mustache-twirling bad guys of yesteryear rather than the complicated evildoers audiences prefer nowadays. Making matters worse is the fact that his personality is practically nonexistent, and when his own ship is crashing down on him at the end of the movie, we feel the same about him as the rocks and other things being crushed: nothing. These may be harsh words, but that's why he gets last place on this list.
11. Whiplash
If Mickey Rourke is to be believed, the reason Ivan Vanko, a.k.a. Whiplash, was such a boring villain in Iron Man 2 was because Marvel cut out most of the scenes that added layers to his character. Whether that's true or not, the end result was a man simply seeking revenge for the hell of it while dropping weird lines in a Russian accent. Frankly, he would have fit in better in one of Joel Schumacher's Batman films. Throw in a bird sidekick, and things get even more bizarre. There's also the issue of energized whips being an ineffective and cumbersome weapon, but that's more of a problem with the source material. Just because something looks good on the comic book page doesn't mean it will translate well into live action.
10. Ronan
Guardians of the Galaxy tried to get the audience to relate to Ronan by establishing that he wanted the Xandarians exterminated for some perceived front to the Kree. Here's the thing, though: show, don't tell. If they really wanted us to feel for Ronan at all (though not necessarily sympathize with him), they would have given us a scene or two explaining what happened to him that made him hate Xandar so much. Unfortunately, such scenes weren't included, and so the result was a baddie who, while powerful and intimidating, didn't really have much substance to him. Lee Pace gave a good performance, but he didn't leave a unique impression. All he had to offer was untold amounts of rage directed at an entire planet. Granted, stay out of the guy's way if he's coming at you, but don't expect a lot of substance from him.
9. Thanos
It feels weird putting Thanos on this list considering all we've seen him do so far is smirk at the camera in The Avengers, threaten Ronan in Guardians of the Galaxy and decide to hunt for the Infinity Stones himself in Avengers: Age of Ultron. However, these small appearances foreshadow the danger he will soon provide to the entire Marvel Cinematic Universe, and Josh Brolin makes the Mad Titan sound just as intimidating as he is in the comics. Combined with what we know is coming in the Avengers: Infinity War movies, that's enough to earn Thanos a spot on this list, even if his ranking isn't high at the moment. Maybe once he finally gets his hands on the six Infinity Stones he'll skyrocket to the top of the list… maybe.
8. Aldrich Killian
To give Marvel its due, it was refreshing to finally have an Iron Man villain that didn't rely on Tony Stark's technology to defeat the armored hero. That said, while Extremis was a powerful weapon to sic against Tony Stark and his allies, Iron Man 3's mastermind Aldrich Killian didn't offer much in the way of uniqueness. The main problem was that he was too similar to Iron Man 2's secondary villain, Justin Hammer (who was much more enjoyable to watch), namely by him wanting revenge on Tony Stark for making him feel inferior. It's understandable, sure, but it's territory that's already been mined. Add in how the whole Mandarin situation was handled (imagine if Kingsley's Mandarin had been the legitimate threat implied in the trailers rather than a joke), and you can't help but feel disappointment at how things turned out. Killian may have been a (dignified) threat, but he was no Mandarin.
7. Abomination
Emil Blonsky's motivation for hating the Hulk made sense, even if it wasn't terribly interesting. Already amazed by a being of incredible power, he got his ass handed to him the first time they met. A normal soldier would just be thankful to be alive, but Blonsky instead wants revenge because he's… embarrassed? One (flawed) Super Soldier Serum injection later, and Blonsky is ready to go again… only to get kicked into a tree. By his second recovery, he wants to eliminate the Green Goliath by any means necessary. Unfortunately, once Blonsky turned into The Abomination, things spiraled downward and all he did was destroy things for the hell of it. It would be great if he was brought at some point, but since Marvel doesn't want to make another Hulk solo movie at the moment, it looks like we won't get to explore him in-depth. At least he looked frightening.
6. Ultron
The MCU's iteration of Ultron was depowered compared to his comic book counterpart, but props go to James Spader for giving him plenty of attitude. Even though we don't see Spader's face in Avengers: Age of Ultron, we can still feel the villain's pain and torment through his voice and motion-captured expressions. However, here are two primary issues with this version of Ultron. First, the trailers advertised him as being incredibly frightening, but the movie showed that he was just eccentric and had a sick sense of humor. The film also could have dedicated more time to establish why he hated humanity rather than have him come to realization about a minute after his birth. Quibbles aside, Ultron ended up oddly being one of the most dangerous and amusing villains in the MCU, and even though there was room for improvement, it's because of Spader that he's more memorable than forgettable.
5. Yellowjacket
Darren Cross was essentially a mirrored version of Obadiah Stane (more on him next) in Ant-Man. Cross feels betrayed by his mentor Hank Pym for not trusting him, and so decides to recreate the technology so he can make a profit. His motivations aren't unique, but at least Corey Stoll gave him great presence and personality, even if the dialogue was sometimes iffy. After playing the ruthless businessman for two-thirds of the film, Cross really gets to shine once he puts on the Yellowjacket suit, giving audiences not just a corrupted version of Pym's technology, but one of the MCU's most memorable fights. Cross also gets a bonus point earlier in the film for casually incinerating that businessman in the bathroom, which is one of the most ruthless acts seen in these movies so far.
4. Red Skull
Dr. Abraham Erskine told Steve Rogers that the Super Soldier Serum amplifies everything inside the recipient. So good becomes great and bad becomes worse. Steve is the great, which makes Red Skull the worst. Red Skull was already Captain America's most notorious enemy in the comics, but Captain America: The First Avenger made him into even more of a twisted foil. However, while Johann Schmidt was certainly dastardly and demented, his particular brand of villainy was rather… ordinary. Fortunately, that wasn't much of an issue given the old-time feel of the period piece adventure. Red Skull is also one of the few villains that's left a legacy by founding HYDRA, the terrorist organization that would go on to wreak devastation with not just various Marvel protagonists, but the entire world.
3. Iron Monger
As the MCU's first primary antagonist, Obadiah Stane left a distinct impression on Iron Man audiences by jumping from one end of the spectrum to the other. He started as one of Tony closest allies, was eventually shown to not have Tony's best interests at heart and, by the third act, he was revealed to be the man responsible for Tony's capture in the Middle East so that he could take over Stark Industries. Jeff Bridges easily switched from the good natured "friend" to the sinister boardroom figure with ease, and that Iron Monger suit was great to watch in action. If there's one downside to Stane, it's that he kicked off a routine of Marvel relying on villains who are direct, twisted foils of the heroes, but judging him strictly on his own merits, he was a great adversary for kick off this growing franchise.
2. Alexander Pierce
The brainwashed Bucky Barnes was Captain America: The Winter Soldier's eponymous villain, but it was Robert Redford's Alexander Pierce that was the mastermind behind the events. Like Stane, Pierce started out as an "ally" to the main hero, but it wasn't long until he was revealed to be both HYDRA's lead agent and the handler of Steve Rogers' corrupted friend. Pierce may not have been able to go toe a toe personally with Captain America, Black Widow or any of the film's other heroes, but his malevolent machinations nearly resulted in millions of deaths, and in the end tore S.H.I.E.L.D. apart. Redford was an outside to box choice to play the master string puller, but it paid off enormously, and by the time Pierce whispers those final words "Hail HYDRA," he cemented himself as an evildoer who changed the course of the MCU all while wearing a nice suit.
1. Loki
Honestly, did you really expect anyone else to take the #1 spot? He's easily the most complex and dramatic villain seen in this universe over the last seven years. Fans watched his descent to villainy unfold in Thor as he discovered his true heritage (being a Frost Giant), and his reasons for betraying his brother made sense, even if we didn't necessarily agree with him. The important thing was that we understand what makes him tick and why he's acting the way he does. He's also the only villain that has been the primary antagonist in more than one movie, and he still has a big role to play both in Thor: Ragnarok and the Avengers: Infinity War movies. Plus, if I made be so bold, he's probably the only villain in the MCU that's more popular than the superhero he battles. While that's not unheard of in other franchises, it's a testament to the God of Mischief in the MCU and why he's not just its best villain, but one of the best characters in this film series.
This poll is no longer available.
Connoisseur of Marvel, DC, Star Wars, John Wick, MonsterVerse and Doctor Who lore. He's aware he looks like Harry Potter and Clark Kent.
Your Daily Blend of Entertainment News
Thank you for signing up to CinemaBlend. You will receive a verification email shortly.
There was a problem. Please refresh the page and try again.