Everything Wrong With Insidious: Chapter 2 In One Convenient Video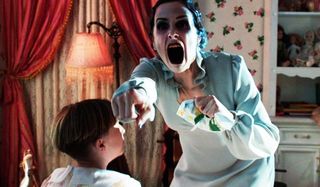 Insidious: Chapter 3 is getting ready to take eager audiences into The Further once more. Anyone who doesn't fit that bill is probably rolling their eyes though, as Insidious is a ridiculous franchise to begin with, and the Cinema Sins crew has highlighted some good reasons why in this deconstruction of Insidious: Chapter 2 below.
Cinema Sins took on James Wan's last horror outing before helming Furious 7, and turning his talents towards something we can pretty much agree was balls to the wall amazing. Insidious 2, on the other hand, is a film so chock full of sins it made the team recall three films they've ripped apart in the past – and that happens only a little over a minute into a 17-minute long video. It could only get worse from that point, and oh boy, does it ever.
Faithful fans of the Cinema Sins Pronoun Game will be pleased to know that Insidious: Chapter 2 is the most infamous abuser of the game since Harry Potter And The Deathly Hallows. You know, now that they mention it, the ghost story genre does seem to have the most instances of "Who's there?" or "It's his will" than any other subset of films. Going with the case laid out in front of us, Insidious: Chapter 2 looks like one of the most cliched horror flicks ever. Though for as much as the film seems to get wrong, there is one set of sins that we could defend against this wrath: James Wan's usage of background hauntings.
While this was used to better effect in the superior film, The Conjuring, Insidious: Chapter 2 still can't be faulted for its sneaky use of ghosts in the background because it's creepier to see something subtle in the corner of the frame than letting it jump right out in front of us. While the film may have gotten a lot wrong in its running time, what with using dice to communicate with the dead and some really wonky time travel, this artistic flourish is a light against the darkness.
Despite all of the harsh takedowns that Cinema Sins level against Insidious: Chapter 2, it also gave them some really cool ideas for the standard post credits stinger that they employ. We don't know what it is about crappy paranormal horror flicks, but they seem to inspire some really good laughs from team Cinema Sins, as the barrage of references ranks up there with Paranormal Activity 2's "PrANkSter dEa-MOn'S FUNiest HoME ViDja'S," segment. The coup d' grace of the montage is some clever editing of Patrick Wilson bashing a door in with his baseball bat, matched with Shelley Duvall's classic reaction to very similar behavior in The Shining.
With all of the sins Insidious: Chapter 2 has on its record, we're kind of scared to see Insidious: Chapter 3. Although that fear is more inspired by wasting money on a ticket to The Pronoun Game live, and less to do with whatever's lurking in The Further this time around. Judge for yourself if the series still has some life in it, as Insidious: Chapter 3 hits theaters on Friday, June 5.
CinemaBlend's James Bond (expert). Also versed in Large Scale Aggressors, time travel, and Guillermo del Toro. He fights for The User.
Your Daily Blend of Entertainment News
Thank you for signing up to CinemaBlend. You will receive a verification email shortly.
There was a problem. Please refresh the page and try again.