Exclusive Interview: The Road Director John Hillcoat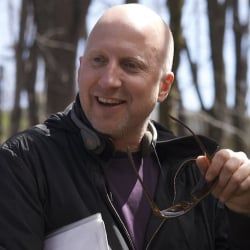 It's not easy to make your first major American film an adaptation of a beloved novel, particularly one as bleak and out-there as Cormac McCarthy's The Road. But things get really difficult when Oprah picks the book for her book club and the Coen Brothers adapt a different McCarthy novel and get an Oscar for it, and then your release date gets pushed back a year, all because Mount Saint Helens is still under 20 feet of snow.
John Hillcoat faced those challenges and countless other small ones as he made The Road, and yet the movie turned out just as finely tuned and savagely brilliant as anyone could have hoped. Boasting raw lead performances from Viggo Mortensen and Kodi Smit-McPhee as the nameless Father and Boy trying to survive in a world that has ended, The Road is a movie entirely about survival, appropriate for a film that wasn't troubled, but certainly had no easy path on its way to the screen.
I talked to Hillcoat a few weeks ago, before The Road's Thanksgiving release, and started by asking him about the delayed release date, which he says was about completing visual effects and location shots as well as perfecting the editing so that the father and son story, not the gorier aspects of their survival, was the focus of the film. We went on to discuss a few choices he made to diverge from the book, choosing Kodi Smit-McPhee for the pivotal role of The Boy, and that pesky first misleading trailer that Hillcoat admits he didn't like either. Check out 10 selected minutes from our interview below, and check out The Road in theaters now.
Staff Writer at CinemaBlend
Your Daily Blend of Entertainment News
Thank you for signing up to CinemaBlend. You will receive a verification email shortly.
There was a problem. Please refresh the page and try again.