Exclusive Video Interview: Aaron Johnson And Sam Taylor-Wood On Nowhere Boy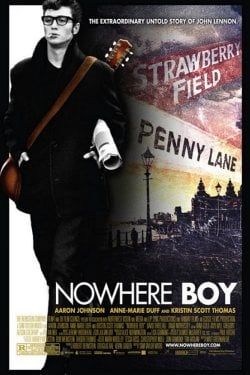 If you think your life has changed significantly since the beginning of this year, I'm betting Sam Taylor-Wood and Aaron Johnson have you beat. When I interviewed the real-life couple at the Sundance Film Festival in January for their film Nowhere Boy, they had just learned that Sam was pregnant with their first child, just a few months after the two had gone public with their relationship. Given that Aaron was 19 at the time and Sam 42, and that the two had met when Sam directed Aaron in Nowhere Boy, their relationship had kicked up a frenzy in the British press, particularly when the film was released there last December.
On top of all of it, Aaron was starring in the forthcoming film Kick-Ass, which was already being heavily promoted as the new big geek event film following its stellar reception at Comic Con. Plus Nowhere Boy had been getting great reviews at Sundance, and with the Weinstein Company planning a fall release date and presumably an Oscar campaign, the pressure on the couple seemed immense. Meeting them up in the Park City mountains, though, things were as low-key as they could be-- we talked in an open hotel lobby, where no one but a friend of Sam's recognized them, and though they sat close together on the couch and frequently shared glances, the two seemed as ordinary a director-actor pair as I've interviewed.
Nine months later, the baby has been born, Kick-Ass wasn't nearly the giant hit I and many others were predicting, and Nowhere Boy is finally hitting theaters, with more warm reviews coming in each day. Nowhere Boy tells the story of John Lennon's teenage years, when he was being raised by his strict Aunt Mimi (Kristin Scott Thomas) but also getting back in touch with his long-absent mother (Anne-Marie Duff), who is as impulsive and fun as Aunt Mimi is restrictive and solemn. Meanwhile John is also taking up an interest in music, and when another teenager named Paul McCartney joins his band, he starts making steps toward forming the band that wouldn't just change his life, but rock and roll entirely.
The name "the Beatles" is never mentioned in Nowhere Boy, and Taylor-Wood and Johnson both emphasized in our interview that they were trying to access Lennon as a flawed human being, not an icon. We talked a lot about Lennon, how their conversations with both Yoko Ono and Paul McCartney helped shape their portrayal of the character, and the pressure of tackling a story about an artist who is so well-known already. The volume on the interview isn't great-- it was a hotel lobby, after all-- but hearing Johnson and Taylor-Wood talk about their process on the film is worth it, I think. It's also fun at the end to hear them talk about plans for the future, knowing that they're now raising an infant and opening a movie at the same time. Amazing how much change 9 months can bring.
Nowhere Boy opens in limited release this Friday.
Your Daily Blend of Entertainment News
Staff Writer at CinemaBlend