FYI, Pitch Perfect 2 Sneaks In A Sweet Early 90s Movie Reference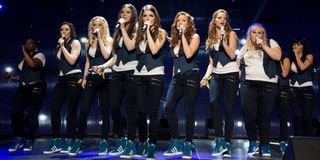 Every single early 90s comedy fan out there really needs to go and see Pitch Perfect 2 this coming weekend, because Anna Kendrick and Brittany Snow have somehow managed to sneak a tribute to Don't Tell Mom The Babysitter's Dead into it.
Brittany Snow, who plays Bella Chloe Beale in the musical sequel, made the admission to The Hollywood Reporter, stating that while shooting, she and Kendrick professed their love for the early 90s comedy. They did this to such a ridiculous extent that they even managed to squeeze in an homage to a line from it. She explained:
Here's a plan: if you're heading to see Pitch Perfect 2 this weekend you should nonchalantly ask your pals after the screening if they noticed the Don't Tell Mom The Babysitter's Dead reference. Then when they obviously say no, you can wow them with your obscure knowledge of early 90s high-concept comedy, and you'll then instantly turn into the leader of your posse. Probably.
For the uninformed (and I'm going to guess that's quite a few of you), Don't Tell Mom The Babysitter's Dead was one of a bevy of outrageous comedies from the early 1990s, which also included 1992's Encino Man and Stop! Or My Mom Will Shoot. These each had surreal and ridiculous plots and titles that you were instantly intrigued by and then needed to see in order to find out how they unfolded.
A further incentive for those of you who have never seen it is that Don't Tell Mom The Babysitter's Dead boasts a terrific comedic cast, as well, which included the likes of Christina Applegate, John Getz, and Josh Charles.
The film itself revolves around Applegate's 17-year-old Sue Ellen Crandell, whose mother abandons her and her five siblings in favor of a trek around Australia with her boyfriend. She doesn't leave them completely alone, though, because she hires a strict babysitter to look after them. As you can probably tell from the title, though, the babysitter unfortunately dies. This then provokes the kids to get up to all kinds of hijinks.
Those of you who are immediately intrigued by this premise will be overjoyed to hear that a remake was actually in the works back in June 2010. Those of you who think that the film sounds like the stupidest cinematic effort since The Hottie And The Nottie will be glad to hear that the remake's development has been stagnant for half a decade now.
There's something irreverently sweet about Pitch Perfect 2's release this coming Friday. Made for the rather paltry sum of $29 million, it's going face-to-face with Warner Bros.' titanic Mad Max: Fury Road at the end of the week, which cost a whooping $150 million to make. The musical comedy is also being released amidst a cavalcade of hyper-serious comic-book movies, reboots, and other sequels. And while each of these have hundreds of millions of dollars at stake, it really does feel as though Pitch Perfect 2 is just happy to be released at all.
Who knows, if Pitch Perfect 2 happens to be a monumental success after it's released on Friday then maybe Brittany Snow and Anna Kendrick can help to rejuvenate the Don't Tell Mom The Babysitter's Dead franchise with their undeniable star-power. And since Kendrick is pretty much the darling of Hollywood right now, I think that's something we can all get behind.
Your Daily Blend of Entertainment News