This Awesome Pitch Perfect 2 Clip Is Powered By 90s Hip-Hop Jamz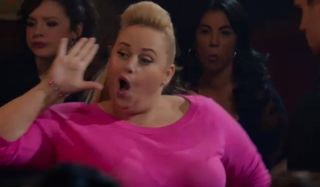 The 2015 MTV Movie Awards was packed with off-the-wall moments, including Amy Schumer's uproarious opening sketch, the Avengers 2 cast coming out to support Robert Downey Jr., and Channing Tatum's incredible twerking abilities. But the evening's festivities also included a new look at Pitch Perfect 2 in the form of an aca-awesome clip. Watch Rebel Wilson flaunt her '90s rap skills below!
Tickling your brain's penchant for nostalgia is a big push for Hollywood right now. Need proof? How about reboots for Gremlins, Scream (in the form of a TV series), Logan's Run and She's All That? And those are just a fraction of the ones we know about. Pitch Perfect 2 is getting in on the game by incorporating some of our favorite hits from the '90s into a spectacular a capella battle, and MTV released a clip of the standoff online. As a rival group attempts to throw down with Montell Jordan's "This Is How We Do It" and Bell Biv Devoe's "Poison," the Barden Bellas fire back with Lauryn Hills' "Doo-Wop." Then Fat Amy (Rebel Wilson) drops in for the cherry on top with "Scenario" by A Tribe Called Quest.
This is just a warm up for what's coming in Pitch Perfect 2. The Bellas are breaking free from the confines of BU (not necessarily by their own choice), and are throwing themselves into the European shark-infested waters of an international a capella competition. No American group has ever won first place, and worst yet, all the other nations' competitors despise the U.S. To top it all off, the Bellas' main competition comes in the form of a German group. It's this group we see battling against the gals in the Pitch Perfect 2 clip. They seem to know their stuff, but I'm sorry, there's no beating Beca (Anna Kendrick) and her troupe once they get fired up.
In addition to returning cast members, including Elizabeth Banks, Brittany Snow, Skylar Astin, Anna Camp and Adam DeVine, Pitch Perfect 2 will also induct Hailee Steinfeld and Sons of Anarchy's Katey Sagal into the fold. And as this 90s Jamz battle suggests, the soundtrack is sure to be just as fun as the first. We know from previous trailers and TV spots that the sequel will feature renditions of Destiny's Child's "Bootylicious," Carrie Underwood's "Before He Cheats," Miley Cyrus' "Wrecking Ball" and Beyonce's girl anthem "Run the World." The latest trailer, which you can watch below, has a nice sampling of the songs to come.
Pitch Perfect 2 hits theaters on May 15.
Your Daily Blend of Entertainment News
Your Daily Blend of Entertainment News
Thank you for signing up to CinemaBlend. You will receive a verification email shortly.
There was a problem. Please refresh the page and try again.