That Fake Jaws Movie From Back To The Future 2 Has A Hilarious Trailer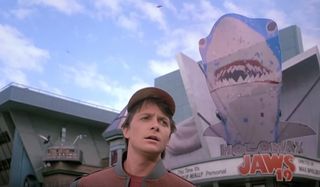 October 21, 2015 will soon be upon us, which means there's still a chance we may yet see Marty McFly travel forward in time from 1985 – at least, that's what Back to the Future Part 2 would have us believe. To celebrate the 30th anniversary of Robert Zemeckis' classic time-travel adventure, Universal Pictures has released a trailer for none other than Jaws 19. Check it out below for yourself.
At first, the trailer adheres pretty closely to what most moviegoers have come to accept about the Jaws franchise: Jaws made us afraid to go in the water, Jaws 2 made us afraid to go back in the water, Jaws 3-D added new dimensions to the terror, and Jaws: The Revenge was personal. At that point, things start to get strange as the narrator begins sounding off installments to the Jaws franchise that break Hollywood down to every type of sequel there is.
Films ranging from outer space, to robotic sharks, to prequels and sequels to prequels are all represented, bringing us up to the current state of the Jaws franchise. Soon – if we are to trust the world of Back to the Future Part 2's 2015 – Jaws 19 will be really, really personal. As most astute moviegoers will remember, Jaws 19 was the film being advertised when Marty McFly arrived in Hill Valley, circa 2015, only for a holographic shark to attack him on the street. You can see that classic moment below.
The fake trailer for Jaws 19 is a testament to the lasting power that the Back to the Future franchise has with fans. As soon as 2015 came around, fans flocked to social media vocally adamant that we were supposed to have hover boards and flying cars by now. Back to the Future Part 2 was even used as a recent reference by Sebastian Stan when fans asked him about who could take over the mantle of Captain America, should Chris Evans ever step down. He remarked that handing the shield over to Anthony Mackie's Falcon would be something akin to Biff's bastardized version of 2015 in Back to the Future Part 2. Fans young and old exploded at the reference, clearly indicating that 30 years later, this franchise still resonates with a completely new generation.
Outside of the Back to the Future franchise, the faux trailer for Jaws 19 simply does a remarkable job of highlighting Hollywood's fixation with sequels – as well as their increasingly outlandish nature. It takes some guts for a studio such as Universal to admit such a trend exists, considering the fact that many of their franchises – see: Jurassic Park and The Fast and the Furious – are quintessential examples of such escalation.
If nothing else, the trailer serves as a solid source of some much needed nostalgia. It invokes fond memories of both the Back to the Future and Jaws franchises – although the latter arguably peaked with its first installment. If you haven't checked out the video above, do yourself a favor and give it a look. Remember, to stroll down memory lane we don't need roads.
Originally from Connecticut, Conner grew up in San Diego and graduated from Chapman University in 2014. He now lives in Los Angeles working in and around the entertainment industry and can mostly be found binging horror movies and chugging coffee.
Your Daily Blend of Entertainment News
Thank you for signing up to CinemaBlend. You will receive a verification email shortly.
There was a problem. Please refresh the page and try again.