The Fear Monger: WolfCop 2 Is Coming And The Halloween Franchise Is Getting A Blu-ray Box Set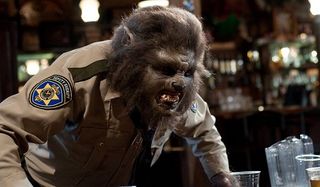 Good day, invokers of all things ectoplasmic. It's Memorial Day weekend, so while you're honoring the brave men and women who keep our country safe, cozy up with some military-themed horror, like Jacob's Ladder or Deathwatch, or something with Nazi zombies if that's more your taste. This wasn't a huge week for horror news, beyond rumors that Alfonso Cuarón has been offered the prequel to The Shining, and wow to that one still. But we managed to scrape up a selection of goodies, including a sequel announcement for one of our more anticipated future cult classics.
In second-page news, Scream Factory is giving John Fawcett's werewolf thriller Ginger Snaps a pretty stellar Blu-ray Collector's Edition, including new interviews with the cast and crew, a new Women in Horror panel discussion, and all of the features on previously released versions. Devon Bostick (The 100, Diary of a Wimpy Kid: Rodrick Rules) is joining Ethan Hawke and Emma Watson in Alejandro Amenábar's satanic cult thriller Regression. And finally, Focus Features has set a January 8, 2016 release date for Jason Zada's The Forest, a thriller centered on the suicide-linked Aokigahara forest in Japan, based on an original idea from Man of Steel co-scripter David S. Goyer.
Now call your babysitter, so we can get into this week's news.
Get Everything Michael Myers with Halloween: The Complete Collection
Just a few weeks after The Weinstein Company let it slip that they were mulling over making another Halloween movie, the venerable Scream Factory and Anchor Bay have announced they're releasing the exhaustive Halloween: The Complete Collection on September 23rd, in both a 10-disc and a 15-disc set. Fans of Michael Myers will have no doubt already bought all of the previously released special editions that this franchise has delivered, but this is truly the only set you'll ever need - at least until the next sequel can be added to the franchise.
Though the full list of specs and features won't be out for a few more months, we know that this set will contain such exclusive features as the never-before-released producer's cut of Halloween: The Curse of Michael Myers, the unrated versions for both of Rob Zombie's installments, and network TV versions of both Halloween II and the original Halloween, which will also feature the much-requested mono audio tracks. Other new features include interviews with cast and crew from all ten films, as well as a 40-page booklet created by Fangoria Magazine's Michael Gingold. This set sounds so good, it makes one wonder why this isn't how every Blu-ray release is created. And by that, I mean with Halloween 5 included.
Wolfcop 2 Already Got the Greenlight
Cannes has been kind to off-the-wall genre films, from Cody Knotts' self-explanatory Pro Wrestlers vs. Zombies to Lowell Dean's comedic horror WolfCop, the latter of which has already gotten the greenlight for a sequel from CineCoup and Raven Banner Entertainment. That's right - before WolfCop even has a chance to hit theaters, we already know that WolfCop 2 is on the way. This truly is a world of wonder and magic.
Set to be released in Canada on June 6th, WolfCop tells the tale of Lou, an alcoholic cop whose blackouts are becoming more frequent and can't all be attributed to boozing. The horrific crime scenes he's investigating start to look a little familiar, and he comes to understand that male pattern baldness may be the least of his problems. While details on the sequel are of course being kept under wraps, CineCoup president Brad Pelman says that it "will be dirtier and harrier than the first one." It's bound to make our day for sure. Make sure the moon is only half-full and take a peek at the first film's trailer below.
Karen Gillan and Taissa Farmiga Join Ti West's In a Valley of Violence
Director Ti West has already built up a large amount of horror cred with slow burning suspense-fests like The Innkeepers and the recent The Sacrament. His next feature is staying in the low-budget zone but has attracted big name talent like Ethan Hawke and John Travolta. This past week, the cast doubled in size, as Doctor Who and Oculus star Karen Gillan and American Horror Story actress Taissa Farmiga have signed up for the dark western.
The Blumhouse-produced In a Valley of Violence will see Hawke playing a drifter named Paul who is seeking revenge on a group of thugs (presumably led by Travolta) who killed his best friend. Farmiga, currently filming the comedic horror The Final Girls, will play the sister to Gillan, who will soon be seen in James Gunn's Guardians of the Galaxy. Together, they run a hotel in the town where Paul has found his target, and they will assist him in avenging his friend's death. Sounds like they could use a Time Lord. In a Valley of Violence is aiming to start production in New Mexico by late June.
Jesus vs. Zombies Comedy Once Upon a Time In Jerusalem Needs More Help!
A few weeks ago, we shared with you guys the absolutely outstanding short film Fist of Jesus from Spanish directors Adrián Cardona and David Muñoz. Now the filmmakers are attempting to turn the hilariously gory short into a full feature called Once Upon a Time in Jerusalem, and they've now taken to IndieGoGo for their crowdsourcing (following an unsuccessful Kickstarter campaign). They've dropped the goal from $150,000 to the more manageable $35,000, but the kickass rewards and perks are still there. It's not often we try to double sell our readers on crowdfunding a movie, but Fist of Jesus is one of the greatest short films imaginable, so I'm really anxious to see this flick get made.
With a goal of using as little CGI effects as possible, Once Upon a Time in Jerusalem will tell the mashed-up adventures of Jesus that the directors describe as "a cross between the New Testament and Mad Max, with the humor of The Life of Brian and the style of Peter Jackson's early works like Bad Taste or Braindead." Donors can look forward to digital and physical copies of the films – even a VHS copy!!! – t-shirts, private screenings, film props and more. Perhaps the best perk is the role of an extra that gets killed by Jesus, but another reward is the chance to suggest the subject of another Jesus-starring short film. We all win! Get this movie made! Enjoy Fist of Jesus below!
Trailer for B-Thriller The Last Light Looks Kind of B-Awesome
It's been a slow week for amazing trailers, but the above promo for Andrew Hyatt's The Last Light fits right into what I like from my low-budget thrillers by not really going into detail about the mysteries that lie therein. Is one of those mysteries, "Why does Edward Furlong continue to star in movies like this?" We shall wait and see. (Brainscan was awesome!)
The Last Light stars Eureka's Ed Quinn, Jeff Fahey (Lost), Molly Hagan (Unfabulous) and more as seven strangers trapped in an abandoned hospital following a mysterious apocalypse of some kind. Not only do they have to worry about the horrors of their past, which they're having trouble remembering, but there are also apparently physical creatures lurking inside the hospital corridors. There's nothing over-the-top or ridiculous looking about it, but there doesn't need to be. So long as it feels different from Saw II, Unknown, Cube and the thousand other "people trapped in a room" thrillers out there, I'll be happy. Or at the very least, not bored. The Last Light is getting a release on June 1st. Celebrate with this slightly Thing-ish poster.
Assistant Managing Editor
Nick is a Cajun Country native, and is often asked why he doesn't sound like that's the case. His love for his wife and daughters is almost equaled by his love of gasp-for-breath laughter and gasp-for-breath horror. A lifetime spent in the vicinity of a television screen led to his current dream job, as well as his knowledge of too many TV themes and ad jingles.
Your Daily Blend of Entertainment News
Thank you for signing up to CinemaBlend. You will receive a verification email shortly.
There was a problem. Please refresh the page and try again.