Will Ferrell Is Taking On Shakespeare, Get The Hilarious Details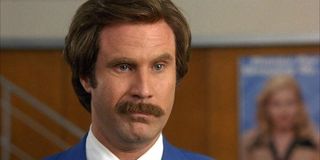 Will Ferrell is set to tackle William Shakespeare in a new comedy that is currently being developed at Sony. The currently untitled film follows the story of a Shakespearean theater company who are all hell-bent on doing The Bard justice.
Information regarding the comedy is currently still at a minimum, and Variety reports that the screenplay for the film is still in its early stages too, with David Guion and Michael Handelman hired to write it. Unfortunately, the screenwriting pair haven't really delivered anything of note that will make you think that Will Ferrell's upcoming Shakespearean salvo will actually be worthwhile. David Guion and Michael Handelman's previous credits have included Dinner For Schmucks and The Ex, both of which possessed almost zero laughs and were also instantly forgettable.
Another reason to be a tad alarmed about the development of this new project is that both of the screenwriters' previous films had incredible talent attached to them, but were still unable to deliver by the time all was said and done. Dinner For Schmucks starred the likes of Steve Carell, Paul Rudd, Jermain Clement and Ron Livingston, all of whom are able to get laughs in a mortuary. Plus Jay Roach directed Dinner For Schmucks too, and while there's no denying that he has been rather hit and miss throughout his career, the fact that he is best known for making movies like Austin Powers: International Man of Mystery and Meet The Parents proves his credentials. And yet the funniest scene to emerge from Dinner For Schmucks was still this …
Meanwhile, The Ex failed to take advantage of having Zach Braff, Jason Bateman, and Amada Peet as its leading stars. But even more criminal than that was the fact that its supporting ensemble featured the likes of Fred Armisen, Amy Adams, Amy Poehler, and Mia Farrow - and yet it was still it was a witless mess.
We'll be able to see if David Guion and Michael Handelman have better luck when their next film, Night at the Museum: Secret of the Tomb, which is set to open on December 19th. While it is expected to fare quite well at the box office, the last two installments in the franchise suggest that critics will have numerous problems with it (though, to Guion and Handelman's credit, they weren't responsible for those scripts). Even if that doesn't exactly work out, perhaps Will Ferrell being attached will somehow match perfectly with the two screenwriter's wheelhouse, allowing them to produce a hilarious screenplay. We'll just have to wait until more information for the film is released to see if there's any indication that will be the case.
Your Daily Blend of Entertainment News
Thank you for signing up to CinemaBlend. You will receive a verification email shortly.
There was a problem. Please refresh the page and try again.