Will Ferrell And Zach Galifianakis Reteam For Richard Linklater Comedy Larry's Kidney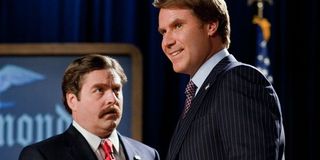 They teamed up for the 2012 political comedy The Campaign. Now Will Ferrell and Zach Galifianakis are reuniting for an outrageous comedy that is based on true events, and is decidedly stranger than fiction.
The Wrap reports Will Ferrell and Zach Galifianakis will headline an upcoming comedy from director Richard Linklater, best-known for his Before Trilogy: Before Sunrise, Before Sunset, and Before Midnight. Called Larry's Kidney, Linklater's latest will focus on the true but wild story of Daniel Asa Rose, a writer and newspaper editor pulled into a world of espionage, underground crime, and medical tourism when his estranged cousin asks him to help save his life.
Larry's Kidney will be based on Rose's heralded comedic memoir, which boasts a mouthful of a title: Larry's Kidney: Being the True Story of How I Found Myself in China with My Black Sheep Cousin and His Mail-Order Bride, Skirting the Law to Get Him a Transplant--and Save His Life. It's a bulky title but a great elevator pitch that teases out several elements that could make for a scintillating and silly screenplay.
The specifics of Daniel and Asa's story as are these. Daniel Asa Rose was a celebrated writer and family man, but he hadn't talked to his cousin Larry for fifteen years following a falling out over Larry's calling the FBI on Daniel for lying on his mortgage application. But when Larry called Daniel in a panic because his liver was failing, all the bad blood was forgotten, and Daniel agreed to do whatever it took to save his cousin's life. With liver transplants in the U.S. being hard to come by with a waitlist of some 74,000 people, Larry--who Daniel has described as "gun-toting couch potato"--decides to travel to China to have the procedure done.
This is called medical tourism, and not only is it taboo, it's often illegal. In China, it's forbidden to perform organ transplants on Westerners. But Larry is confident his money will convince whoever needs convincing. So the cousins book passage. But while they're at it, Larry also decides he may as well take the opportunity to engage in another taboo activity, picking up a mail order bride. Funded by a quarter million dollar medical settlement, Larry and Daniel head to China to seek out love and a kidney. Along the way they will attempt to elude law enforcement and reconnect as family.
Will Ferrell is set to star as Daniel Asa Rose, while Zach Galifianakis has been lined up to play Larry. It's a character and plot he seems well suited to, as Larry's Kidney could easily be the premise for The Hangover: Part IV -- Alan Needs A Kidney.
Notably, this won't be the first comedy that Richard Linklater has adapted from real life. In 2011, he co-wrote and helmed the dark comedy/biopic Bernie about a small town Texan murderer named Bernie Tiede. The film and its anti-hero made headlines recently when Tiede was released from prison, in part because Linklater offered him an apartment within his own home. It'll be interesting to see if Linklater grows as close to cousin Larry.
Your Daily Blend of Entertainment News
Staff writer at CinemaBlend.
Your Daily Blend of Entertainment News
Thank you for signing up to CinemaBlend. You will receive a verification email shortly.
There was a problem. Please refresh the page and try again.