Ferris Bueller Home Fetches $1.06 Million On Chicago Real Estate Market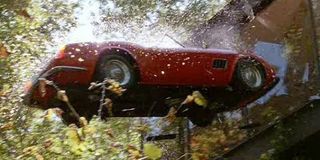 How much would you be willing to pay for a piece of movie memorabilia? If you are, say, Abe Froman, money may be no issue. But we're assuming it was someone other than the Sausage King of Chicago who just dropped $1.06 million on Cameron Frye's glass house from Ferris Bueller's Day Off.
Variety reports on the unique home sale, reporting that the house actually had been on the market for five long years, and that "it went through price cuts" before finally being sold. Of course it did! Someone once drove a vintage Ferrari through the back window!
Is there a more famous house in the cinema that helped define a generation? Probably Norman Bates' abode, though that's going back several decades. For those of us raised on the John Hughes filmography, mention "rolling back the odometer" or a Ferrari, and it instantly will conjure up the image of Cameron's father's prized possession – the care he loves more than his own son – crashing through that huge window of the detached garage (located down the hill from the actual home) and plunging into the normally quiet woods behind the home.
Want a really good tour of the home? NBC's Today show actually first reported on the home being on the market five years ago, giving us a virtual tour of the official, historic location in Illinois' Highland Park neighborhood used in Ferris Bueller's Day Off:
As you learn in the Today clip, the asking price for the home five years ago was $2.3 million. No real details on why the Rose family – the home's only owners – had to repeatedly reduce the price before finally selling to two alumni from Northwestern University. The Chicago Tribune, who also reported on the home's sale, mention that the establishment was "built in 1953 and designed by Ludwig Mies van der Rohe disciple A. James Speyer, while the pavilion was designed by David Haid and constructed about 20 years later to house an exotic car collection." Including a Ferrari. Which Cameron kicked until it was damaged beyond repair.
Maybe the idea of Ferris Bueller's Day Off fans embarking on movie tours around Chicago scared off potential buyers of the gorgeous home? After an afternoon Cubs game, and a lunch at Chez Quis, fans might swing by the Highland Park home and kick the front fender of the first nice car they can find. Well, it's someone else's problem now… and you are going to have to look for the next piece of overpriced movie memorabilia to fill that nostalgic hole in your heart.
Movie junkie. Infatuated with comic-book films. ReelBlend cohost. Resident dad. Extroverted introvert. Wants to see the Snyder Cut. Managing Director at CinemaBlend.
Your Daily Blend of Entertainment News
Thank you for signing up to CinemaBlend. You will receive a verification email shortly.
There was a problem. Please refresh the page and try again.